Made with 2 ingredients, this recipe for HARD SHELL CHOCOLATE brings back childhood memories of chocolate dipped cones. Easy and delicious like Magic Shell.
This recipe for HARD SHELL CHOCOLATE will soon become your kids favorite summer treat, creating memories that will last them well into their adulthood. While I love just ice cream in general, especially my new favorite Brazilian Guava Cheesecake, nothing beats good ol' chocolate.
Grateful to be collaborating with Safeway today to bring you this recipe for HARD SHELL CHOCOLATE. All opinions expressed are my own.
I love ice cream: ice cream cake, cookie sandwiches or eating it straight from the carton. I love it no matter how it's served. And my favorite date night activity during the summer is my hubby and I walking downtown and grabbing an ice cream to "share" (although I think it's more 80% Jake and 20% me).  I love walking into the local ice cream parlor, sampling all the flavors and then strolling along the storefronts while we both eat from the cone.
I think I love ice cream because of all the happy memories around ice cream. On late summer nights, my mom and dad would take all us kids for cones; my mom, my brother Joe, and my sister Bonnie would always go for the chocolate or cherry dipped cones. I never tried this Magic Shell until I was a mom. Boy, was I missing out.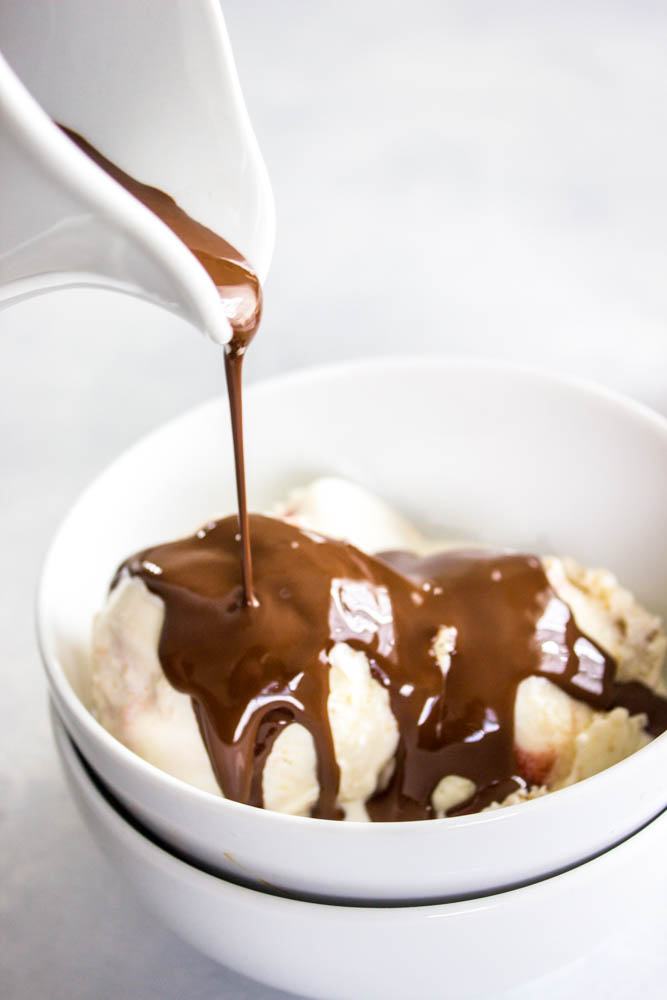 What I love about this recipe, besides being made from just 2 ingredients, is the hint of coconut in the chocolate. Also, you can adjust the amount of coconut oil that you use based on how thick you want the chocolate. So if you want a crispier, thinner hard shell add more oil, and for a thicker shell, add less.
It is such an easy recipe. You need only about a minute to cook it in the microwave and just a few minutes to put the ingredients together, so really, this famous Magic Shell ice cream topping can be ready in less than 5 minutes.
It's guaranteed to be devoured in less time as well.
While I'm all about ice cream toppings, to me, it is more about the ice cream.
I love a generous scoop of ice cream on a cone. I prefer parlor ice creams because they just taste fresh and homemade, which typically they are. When I find a good parlor-like ice cream from the store, it becomes my go-to for a while. I haven't found a favorite for some time – that was until this past week.
I am not completely obsessed with Safeway's new Signature Reserve ice cream, in particular, the Signature Reserve Brazilian Guava Cheesecake Ice Cream. Like obsessed. It is my new favorite. Even over the fresh strawberry ice cream from the parlor.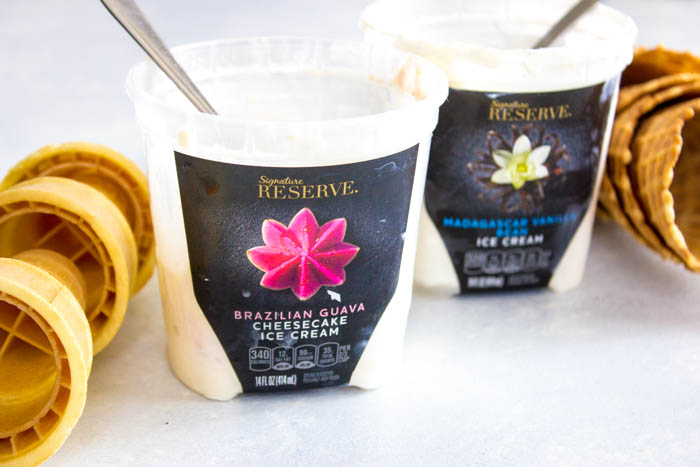 I love it when a simple scoop and spoon is all you need.
We recently went on a summer vacation to Lake Powell. It was hot all week long, and we weren't able to have any sort of ice cream because there was no way it would have made it in the freezer on our houseboat because we couldn't run the generator until we were beached.
So the first thing we wanted when we got back to the marina was ice cream. Over 100 degrees, it was something we were all craving. Our mouths were watering as we were being served, and then we took a bite. No flavor at all – it literally tasted like ice. I wish I were kidding or exaggerating, but sadly, I'm not. My husband didn't even eat his. So when we arrived home, I was thrilled to go and grab some ice cream.
My friend Amber picked up the NEW Signature Reserve™ Brazilian Guava Cheesecake and Madagascar Vanilla Bean ice creams. The first bite was with a spoon, and so was my last. Both of us loved the Brazilian Guava Cheesecake. And for the price of the one bowl at Lake Powell, I got a whole 14-ounce container. I love these Signature Reserve™ Super Premium Ice Creams because they are flavors developed from quality ingredients sourced from around the world.
My kids loved the Madagascar Vanilla Bean, and we put it in ice cream cones and bowls. We dipped and poured a few with the HARD SHELL CHOCOLATE, and the boys loved it.
I am thrilled to have found the perfect recipe for HARD SHELL CHOCOLATE – a copycat from my childhood Magic Shell. I am glad my kids will now grow up having those same fun-filled memories like I did.
While ice cream can be good all on its own, my kids love the chocolate and sprinkles. So I'll sit here and continue to enjoy my favorite Signature Reserve™ Super Premium Ice Creams, and the kids can enjoy the homemade magic shell.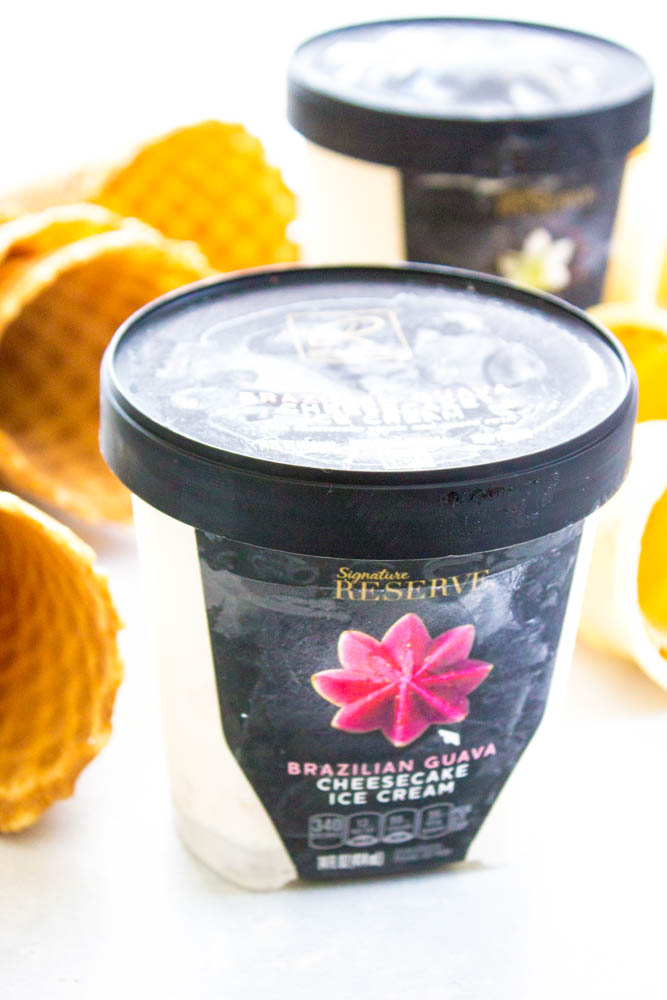 Enjoy the summer friends, and be sure to head out to your local Safeway stores and grab a few containers of the Signature Reserve ice cream flavors. There are so many to choose from. But don't forget to grab at least one or two of the Brazilian Guava Cheesecake. You won't be disappointed. XOXO San
My favorite kitchen item I used to make this recipe for HARD SHELL CHOCOLATE.
This post may contain affiliate links. See my Full Disclosure for further details.
Mixing Bowls: I love having a variety of sizes of mixing bowls. From small to large, I find that having at least 3 bowls of different sizes have been essential in my kitchen. I prefer Pyrex because of the durability.
Make sure to pick up the Signature Select Semi-Sweet chocolate chips and O Organics coconut oil. I love both of these items. And use them both in other recipes, like my Healthy Banana Chocolate Chip Muffins (another Safeway inspired recipe) as well as my Peanut Butter Oatmeal Bars. You could easily add chocolate to these, making them my Chocolate Oatmeal Peanut Butter Bars.
Don't forget to pin this to your favorite Pinterest board to save for later.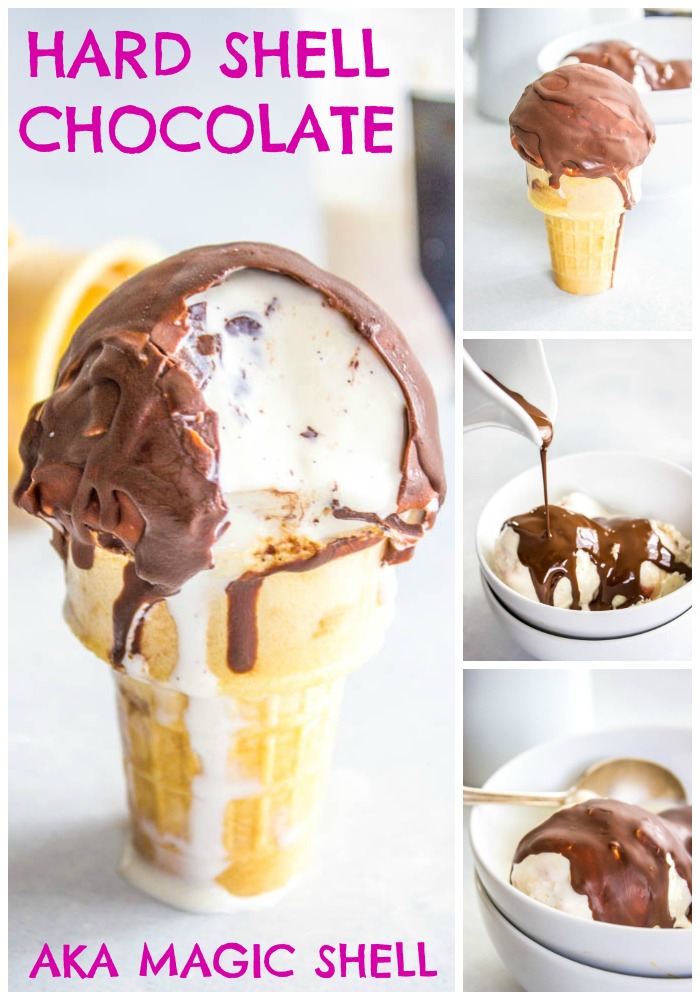 HARD SHELL CHOCOLATE
Made with 2 ingredients, this recipe for HARD SHELL CHOCOLATE brings back childhood memories of chocolate dipped cones. Easy and delicious like Magic Shell.
Ingredients
2

cups

semi-sweet chocolate chips

6

tablespoons

coconut oil

up to 2/3 cup
Instructions
In a medium-sized mixing bowl that is microwave safe, add in chocolate chips and coconut oil.

Microwave for 30-seconds and mix until well combined. Heat for another 30 seconds, and stir until completely smooth. This may take up to 1 or 2 more times.

You can use right away or store at room temperature in an air-tight container.

Fun tip - you can keep this in a mason jar or an old ketchup/mustard bottle. It will come out perfect every time!
Nutrition Facts
HARD SHELL CHOCOLATE
Amount Per Serving
Calories 234
Calories from Fat 162
% Daily Value*
Total Fat 18g 28%
Cholesterol 1mg 0%
Sodium 3mg 0%
Potassium 170mg 5%
Total Carbohydrates 15g 5%
Protein 1g 2%
* Percent Daily Values are based on a 2000 calorie diet.
This is a sponsored conversation written by me on behalf of Safeway . The opinions and text are all mine.
Save