German Chocolate Cake Cookie Bars a chocolate sugar cookie bar topped with a classic German Chocolate Cake Frosting. Easy to make and assemble, even easy to devour. Deliciously easy.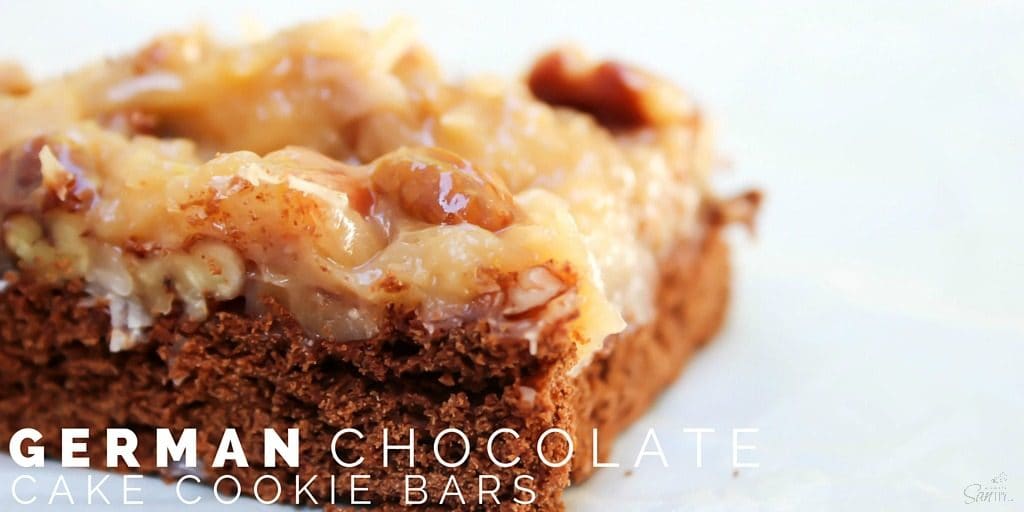 My family loves, loves, loves my German Chocolate Cake Cookies. It is easily the most requested cookie from anyone who has ever had them. And it is the top viewed recipe on my blog. I love making these cookies. And while I crave these often, sometimes I just don't have the time to make a batch. So I thought why not make it into a bar. Viola. This recipe takes less time than making individual cookies. The difference between the cookie bars and the cookie besides the baking time is that the cookie bar is thicker. While I like my cookies a little more thin and chewy, these bars are oh, so good paired with the creamy frosting. If you are reading this recipe and find yourself in more of a cake mood, try my Best Ever German Chocolate Cake.
With the holidays right around the corner these German Chocolate Cake Cookie Bars are just waiting to be baked, frosted and devoured.
Enjoy!
XOXO San
German Chocolate Cake Cookie Bars
Ingredients
½ cup butter, softened
½ cup brown sugar
½ cup sugar
1 egg
2 teaspoons vanilla
¼ cup sour cream (could also substitute plain Greek yogurt)
2 cups flour
½ cup cocoa powder
½ teaspoon baking powder
½ teaspoon baking soda
½ teaspoon salt

German Chocolate Frosting

1 cup evaporated milk
1 cup sugar
3 egg yolks
½ cup butter
1 teaspoon vanilla
1 ½ cup sweetened shredded coconut
1 ¼ cup chopped pecans
Directions
Preheat the oven to 375 degrees. Grease a 9x13" baking pan (or spray with non-stick cooking spray - my favorite for baking recipes is Baker's Joy).
In a large bowl, beat together the butter, brown sugar, and sugar. Add in the egg, vanilla, and sour cream and mix until completely incorporated.
Add in the flour, cocoa powder, baking powder, baking soda, and salt and mix well.
Stir together the flour, cocoa powder, baking powder, and salt. Press the dough into the prepared pan (I had to use my hands to press the thick dough all the way to the edges of the pan) and bake for 12-14 minutes (be sure not to overbake or they will become dry).
German Chocolate Frosting
Add evaporated milk, sugar, egg yolks, butter and vanilla to a large pan and place on stove top over medium heat.
Stir so that it becomes well combined. Continue stirring until thickened. Once butter has melted it takes approximately 11-12 minutes. I set my time for 11 minutes and 30 seconds, this seems to work every time.
Once thickened remove from heat and add coconut and pecans. Beat until thick enough to spread.
Notes
Chocolate Cookie Bars|http://www.sixsistersstuff.com/2015/07/chocolate-sugar-cookie-bars.html] German Chocolate Frosting from Chef In Training
https://www.dashofsanity.com/german-chocolate-cake-cookie-bars/
Save