Cupid came early and delivered this Fudge Brownie Red Velvet No Bake Cheesecake.
This no bake cheesecake is a red velvet and chocolate lover's dream. Made with fudge brownie crust, red velvet no-bake cheesecake and a homemade fudge sauce, you can't get much better that than.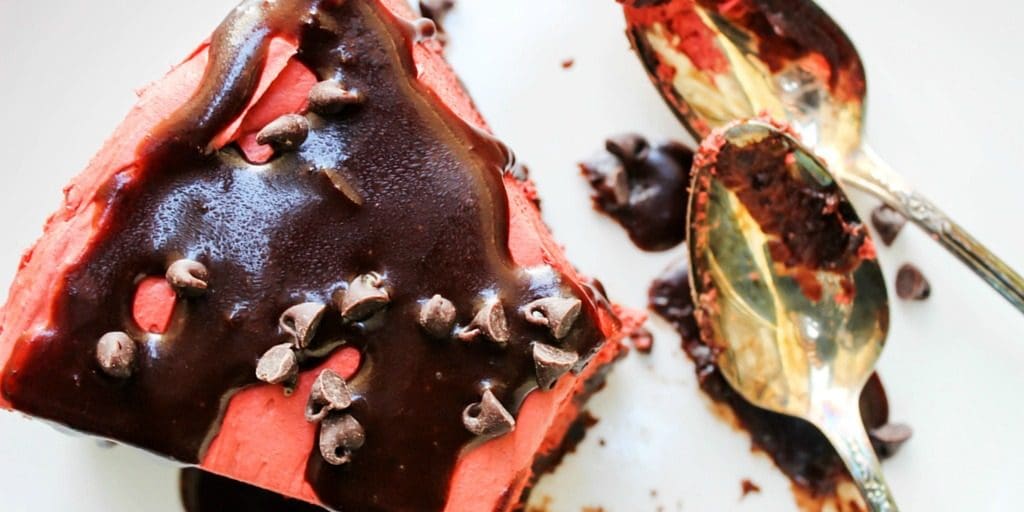 Okay, so I am already going to say, I know, I know you have to bake the brownie…I get that. So to clarify the cheesecake is no bake. That's right bake the brownie, not the cheesecake. And if you want to make this a pure no bake recipe, well buy a pre-made brownie from the store and cut into the shape of the pan, easy, simple and you don't have to use your oven.
Inspired by my favorite dessert of all time Fudge Brownie No Bake Cheesecake, I made an adjustment to that recipe to make this perfect for Valentine's Day this week. My family loves red velvet anything, so I thought this would be a great way to celebrate.
And cupid's arrow struck our heart because we all love this Fudge Brownie Red Velvet No Bake Cheesecake drenched in the best ever fudge sauce thanks to my friend Anna at Crunchy Creamy Sweet for this fantastic recipe.
If you are looking for an easy decadent recipe for this coming holiday of love, look no further. This Fudge Brownie Red Velvet No Bake Cheesecake will be you Love Potion #9. Enjoy!
XOXO San
Fudge Brownie Red Velvet No Bake Cheesecake
Ingredients
1 boxed brownie mix
1 cup semi-sweet chocolate chips, I used Nestle Toll House chocolate chips
12 ounces cream cheese, softened
1/2 cup sugar
1/4 cup (1/2 stick) butter, softened
2 cups frozen non-dairy whipped topping, thawed
¾ cup mini semi-sweet chocolate chips
1 teaspoon red food coloring

10-minute Hot Fudge Sauce

½ cup brown sugar
¼ cup cocoa powder
¼ cup butter
¼ cup milk
2 teaspoons vanilla

Garnish

Nestle Toll House Mini Chocolate Chips
Directions
Prepare an 8 or 9-inch springform pan, otherwise known as a cheesecake pan by spraying with cooking oil. Prepare and bake brownies according to package directions. Remove brownies from oven and let them completely cool.
Once brownies are completely cool make the no-bake cheesecake. In a small bow add chocolate chips and heat in microwave for 1-minute. Stir, and then heat in 30 second intervals stirring in between until chocolate is completely smooth and melted. Set aside to cool.
Beat together cream cheese, sugar and butter in large bowl on medium speed until smooth and creamy. I used my KitchenAid mixer for this. Slowly add in cooled melted chocolate chips, stirring until well blended. Add in food coloring until you get the color of red you desire, I used 1 teaspoon, mix until completely mixed in. Fold in whipped topping until blended, I get a little inpatient and usually start to beat it.
Add in mini chocolate chips and stir until incorporated. Spread on top of cooled brownies.
Place in the refrigerator until firm and set 30-60 minutes.
Prepare 10-Minute Fudge Sauce, so that it has time to cool before making the cake.
In a bowl mix together, brown sugar and cocoa powder, set aside.
In a medium saucepan, over medium heat, add butter and milk, bring to a slow boil, and let it bubble for 3-5 minutes. Stirring occasionally. Add cocoa and brown sugar mixture, stirring constantly and cook for 2-3 minutes and sauce is smooth.
Immediately remove from heat and stir in vanilla. Set aside to cool, to room temp. The sauce during this time will thicken.
Once cheesecake is set, remove from refrigerator. Slice and serve with fudge sauce drizzled over each piece and garnish with mini chocolate chips.
Notes
If you bake the brownies, that is not included in the total time above. The total time does include the time it takes the cheesecake to set.
https://www.dashofsanity.com/fudge-brownie-red-velvet-no-bake-cheesecake/
Don't forget to pin this recipe to your favorite Pinterest board to make for later.

Save