Dulce de Leche Fudge a rich & creamy dark chocolate fudge made with caramelized sweetened condensed milk. Chocolate & caramel truly there is no greater combination.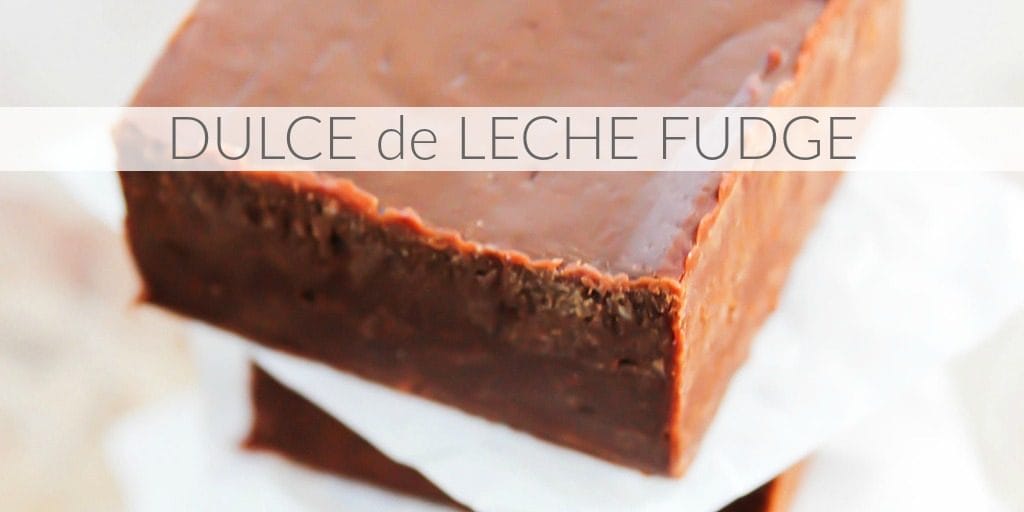 With all the fudge making around our house it really is a Christmas miracle that I haven't put on 20lbs. Thank goodness for my Fitbit I love it – trying to hit a minimum of 15k steps a day. Some days are easier than other, but really this holiday season I have gone over 20k steps in a day. So cheers to more fudge, right?! I love this caramel friends. Honestly it is the favorite of the week. Made with Dulce de Leche which is a rich, sweetened condensed milk. This milk has a caramel taste making it great to bake and make candy with which is exactly what I did.
The idea came for this Dulce de Leche Fudge came to me while I was at the grocery store in the baking aisle. I was picking up some sweetened condensed milk for a poke cake and my eyes came up on the Dulce de Leche which was right next to the sweetened condensed milk and I just knew instantly that I need to make fudge with it. What I love about this recipe besides the easiness of it, is that it could be made with any type of chocolate. I went a mixture of dark and semi-sweet, because I love dark chocolate, but really anything would work. Make it your own. The Dulce de Leche doesn't shine through in this recipe with a strong caramel taste, but is does add to the richness and creaminess of the fudge. A note to make is the darker the chocolate the more subtle the Dulce de Leche.
So go get on some yoga pant, make a batch or two and eat until your little heart is content. Then make some more for your best friend, she needs this too!
Cheers to fudge, fudge and well, more fudge.
XOXO San
Ingredients
1 (13.4.) can Dulce de Leche, I used Nestlé® La Lechera®
¼ cup sweetened condensed milk
3 cups chocolate chips, I used 2 cups 60% Cocoa chocolate chips & 1 cup Semi-sweet chocolate chips
1 ½ teaspoons vanilla extract
Pinch of salt, optional

You can use any type of chocolate chips you wish. Milk, semi-sweet or dark, they all work great. The lighter the chocolate the more the dulce de leche will stand out.
Directions
Spray an 8 or 9-inch square pan with cooking oil, then line with parchment paper, extending paper over edges of pan.
In a medium sauce pan heat dulce de leche, sweetened condensed milk and chocolate chips over medium heat until completely melted, creamy and smooth.
Spread into prepared pan, cover with foil and cool.
Chill for 2 hours, then remove from pan by lifting the parchment paper. Cut into 20 squares and serve!
Notes
https://www.dashofsanity.com/dulce-de-leche-fudge/
Don't forget to pin this to your favorite Pinterest board to make now and then again later.

Save