DOUBLE CHOCOLATE PEANUT BUTTER COOKIES – Soft & chewy these chocolate peanut butter cookies with chocolate chips are my sweet tooth fixation.
DOUBLE CHOCOLATE PEANUT BUTTER COOKIES were the solution to my afternoon sugar craving. As of late and I know this may come as a surprise to all of you that know me, but I haven't been having my typical sugar cravings – all because I simple removed much of the sugar in my diet.
After a few brutal days – the first 3 I was fine. The cravings and afternoon tiredness gone. But then of course I had one of those days – where I just needed a pick me up. I really wanted chocolate chip cookies but didn't want to wait for the dough to chill, so I went with a twist on our favorite peanut butter cookie.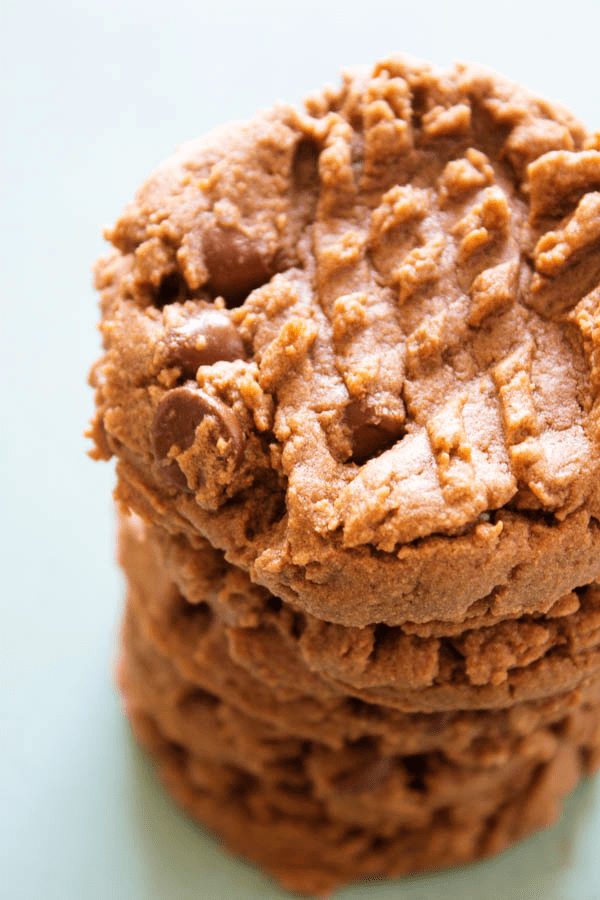 I love peanut butter and chocolate chips together and while I was measuring out all of the ingredients, I figured why not add some cocoa powder and make these even chocolatier. Good thinking on my part for sure!
This recipe makes 3 dozen which is way more than I personally need. And my kids are reducing the sugar as well, therefore were excited to give these to some of our favorite people.
Sharing is caring, especially when it comes to cookies. Am I right?
What I love about fall and the entire holiday season is that people seem to be focus on food. Whether is all about baking or sharing their latest creation with friends and family. I see a lot more of giving during this time of year – and I love it!
My favorite treats to share is coffee cake – my mom's best friend famous recipe and then of course cookies. Christmas is the only time of year that I will share hot fudge sauce for our friends and family gift rather than a cookie plate.
Shocked – well then you need to try this hot fudge sauce. You would receive it with open arms.
The rest of the year I am all about sharing the cookie love. What's your favorite cookie recipe?
My husbands favorite is my sugar cookies, my boys love my peanut butter cookies and my girls are all about No-Bake Cookies.
So the next time you have a peanut butter and chocolate craving, skip running to the store for a Reese's whip up these DOUBLE CHOCOLATE PEANUT BUTTER COOKIES instead.
Enjoy! XOXO San
Love peanut butter and chocolate? Try these other combinations: Chocolate Oatmeal Peanut Butter Bars, No Bake Peanut Butter Chocolate Cream Pie, Chocolate Peanut Butter Lasagna and Peanut Butter Caramel Cupcakes.
My favorite kitchen items I used to make these DOUBLE CHOCOLATE PEANUT BUTTER COOKIES.
SHEET PAN: I love using a larger sheet pan while cooking because I am feeding my family of seven. I love aluminium for when I do sheet pan meals. I would start with this 13 by 18 half sheet pan. I love these pans so much that I have 9!
HAND MIXER: I love these for small batches or quick and easy recipes that don't require a lot of ingredients. I love that you can have so many color options now, I love personally love teal.
KITCHENAID MIXER: I love my Kitchenaid mixer and use it almost daily. For cookies, breads, sauces, frostings and dough – I find many recipes that I can use my KitchenAid to reduce prep time. I have two that I couldn't live without.
MIXING BOWLS: I love having a variety of sizes of mixing bowls. From small to large, I find that having at least 3 bowls of different sizes has been an essential in my kitchen. I prefer Pyrex because of the durability.
Don't forget to pin this recipe for DOUBLE CHOCOLATE PEANUT BUTTER COOKIES to your favorite Pinterest board for later.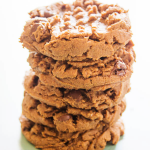 DOUBLE CHOCOLATE PEANUT BUTTER COOKIES
DOUBLE CHOCOLATE PEANUT BUTTER COOKIES - Soft & chewy these chocolate peanut butter cookies with chocolate chips are my sweet tooth fixation.
Ingredients
1

cup

creamy peanut butter

½

cup

butter

softened

½

cup

granulated sugar

½

cup

packed brown sugar

2

large eggs

1

tablespoon

vanilla extract

1

and ½ cups all-purpose flour

1/4

cup

cocoa powder

1

teaspoon

baking soda

¼

teaspoon

salt

1

cup

semi-sweet chocolate chips
Instructions
Preheat the oven to 350 F. Line 2 baking pans with parchment paper, if desired.

In a large mixing bowl, cream together the peanut butter, butter, sugar and brown sugar. Beat together until smooth & creamy best if using a stand mixer or hand mixer.

Add the egg and vanilla extract and continue to mix until well combined.

In a small mixing bowl, whisk together the flour, cocoa powder, baking soda and salt. Stir in the flour mixture to the butter and sugar mixture and mix until well combined. Stir in chocolate chips.

Using a cookie dough scooper or making the dough into 1 inch balls. Roll in white granulated sugar if you desire and place on to baking sheet.

Using a fork, press down on each ball of dough to slightly flatten and creating a criss-cross pattern.

Bake for 8-9 minutes. Let cool on the baking sheet for a few minutes and then transfer to a wire rack.

These keep well for a couple of days in an airtight container.
his post may contain affiliate links. See my Full Disclosure for further details.
Save