This Creamy Tortellini Bake is ready in 30 minutes and is comfort food at its best.
A five-cheese filled tortellini, spinach and a light alfredo sauce with a hint of bacon and sundried tomatoes.
Even spinach haters will be lovin' on this pasta bake.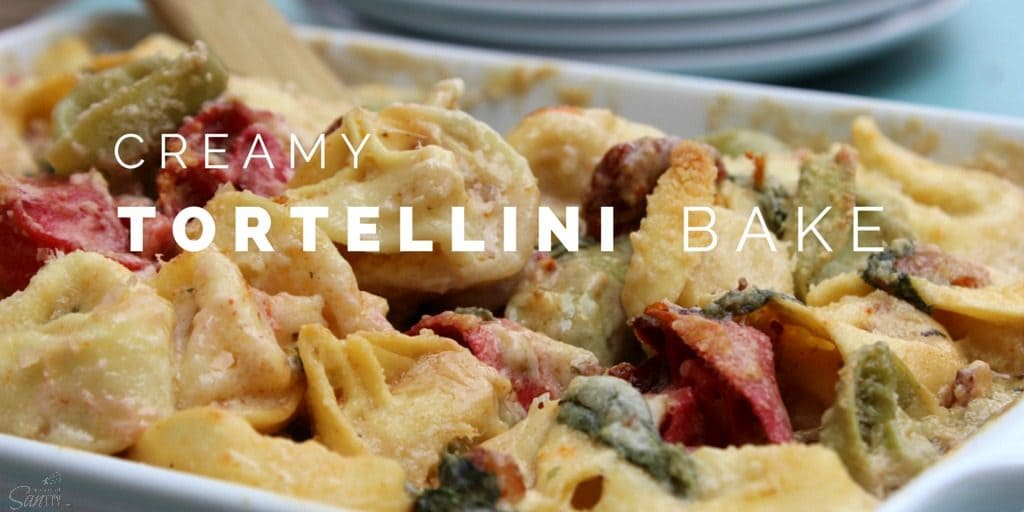 I love easy meals that take little time to prepare. If I can make them in advance or the recipe is easy to double it becomes an instant keeper. And this Creamy Tortellini Bake meets all of the requirements. Even posing as a fantastic freezer meal.
One of my most popular recipes on the blog the Chicken Fettuccine Bake. A recipe my friend Hilarie gave me years back. It has been made countless of times in our house. And given to others when they need a meal. It is the ultimate "welcome home baby" meal. This Creamy Tortellini Bake is a twist off that recipe, exchanging the chicken for spinach and fettuccine for tortellini. The sauce stayed the same and that is what makes this recipe amazing!
And you can wow all your family and dinner guest pairing this Creamy Tortellini Bake with a Kale Caesar Salad and Easy Garlic Parmesan Bread Sticks. A perfectly rounded out meal and easy to put together.
Enjoy! And remember this is a great meal to make for a friend. So share the Creamy Tortellini Bake love.
XOXO San
Ingredients
1 lb. Five-cheese tortellini package, frozen or fresh
6 tablespoons butter
3 tablespoons flour
1 can (14.5 ounces) chicken broth
½ cup half-and-half
½ cup grated parmesan
1-2 cups fresh spinach, roughly chopped
½ cup oil packed sun-dried tomatoes, drained and cut into thin strips
2 slices bacon, crisply cooked and crumbled
3 tablespoons shredded Parmesan cheese for topping
Directions
Prepare tortellini according to package directions.
Preheat oven to 350. Spray a 2-quart baking dish with cooking spray and add in cooked tortellini.
Over medium-high heat melt butter. Once butter is melted stir in flour. Gradually stir in broth. Heat to boiling, stirring constantly; let it boil for 2-3 minutes. Reduce heat to low and stir in half-and-half and 1/2 cup grated parmesan cheese. Toss in spinach, bacon, and sun-dried tomatoes.
Remove from heat, pour over tortellini and gently toss to combine. Sprinkle with remaining 3 tablespoons of parmesan cheese. Place in oven and bake uncovered for 30 minutes.
Notes
Note: I double this recipe every time and then set aside a small portion to go dish for a friend that has 2-4 people in their family that may need a quick meal.
https://www.dashofsanity.com/creamy-tortellini-bake/
Save