Creamy Sausage & Corn Penne Pasta made with a few simple ingredients: fresh corn & basil, Italian sausage and mascarpone & parmesan cheese. Pasta perfection in 30 minutes.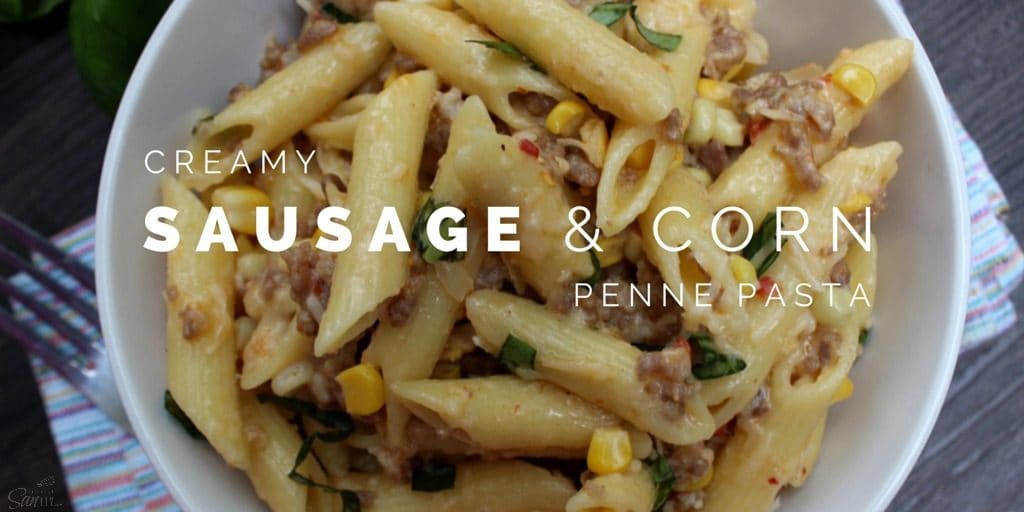 So I know that our family is trying this whole eating healthy thing, but every once in a while I have to pull out a creamy pasta dish and just indulge in creamy, cheesy, yumminess. Everyone does this right?!
I get tired of the same ole' pasta dishes. Granted we eat spaghetti and meatballs minimum of 3 times a month and we never get tired of that. Well I should say, the kids and I never get tired of it but the hubby does. But it is the heavy white sauce pasta dishes I get tired of. So I love switching it up and trying something new. This Sausage & Corn Penne Pasta is something new. (Yay!)
Bold flavors from the spicy Italian sausage and the chile paste are subtle because of the richness of the creamy mascarpone cheese and fresh corn & basil. Making it a bowl of pasta perfection.
The colors of this dish remind me of the Farmers Market in the spring. Touches of green, yellow with a hue of red, sigh, beautiful.
Looking for a new creamy pasta dish to feature on your dinner table, this is it. Push aside the kale and quinoa for one night and cozy up to this Creamy Sausage & Corn Penne Pasta. You'll love it.ausag
Enjoy!
XOXO San
Creamy Sausage & Corn Penne Pasta
Ingredients
1 pound penne pasta
2 tablespoons olive oil
1 pound sweet or spicy Italian sausage, we prefer spicy
½ cup diced yellow onion
2 cups fresh or frozen corn, thawed, not canned!
1/2 teaspoon kosher salt
8 ounces mascarpone
1 tablespoon Sambal chile paste, found in the Asian isle at your local grocery store, next to the soy
1 cup freshly grated Parmesan cheese, dived
1/4 cup fresh basil, chopped
Directions
Boil a large pot of salted water of medium-high heat. Add penne and cook according to the package directions. Once noodles are al dente, reserve ½ cup of pasta water, then drain the remaining water from the noodles. Make sauce while pasta is cooking.
Heat a medium skillet over medium-high heat. Add the olive oil and sausage; cook for about 5-6 minutes, breaking up the sausage as it cooks with a wooden spoon. Breaking the sausage into bite-sized pieces. Add the ½ cup of yellow onion and cook for another minute or two. Stir in the corn and salt. Stir corn and sausage mixture until the corn is warm, about 2 minutes. Transfer to a large serving dish.
Add mascarpone, chile paste and the hot pasta and ¼ cup of reserved pasta water to the large serving bowl with the corn and sausage. Add the Parmesan directly over the hot pasta. Then using a large serving spoon, toss everything together well. Then add the basil and lightly toss again.
Serve immediately and with additional Parmesan cheese if desired.
Notes
https://www.dashofsanity.com/creamy-sausage-corn-penne-pasta/
Save