This post may contain affiliate links. See my Full Disclosure for further details.
Creamy BLT Pasta a twist on your traditional BLT. Made with bacon, roasted tomatoes and spinach, this cheesy rendition will have you craving a BLT every…single…night.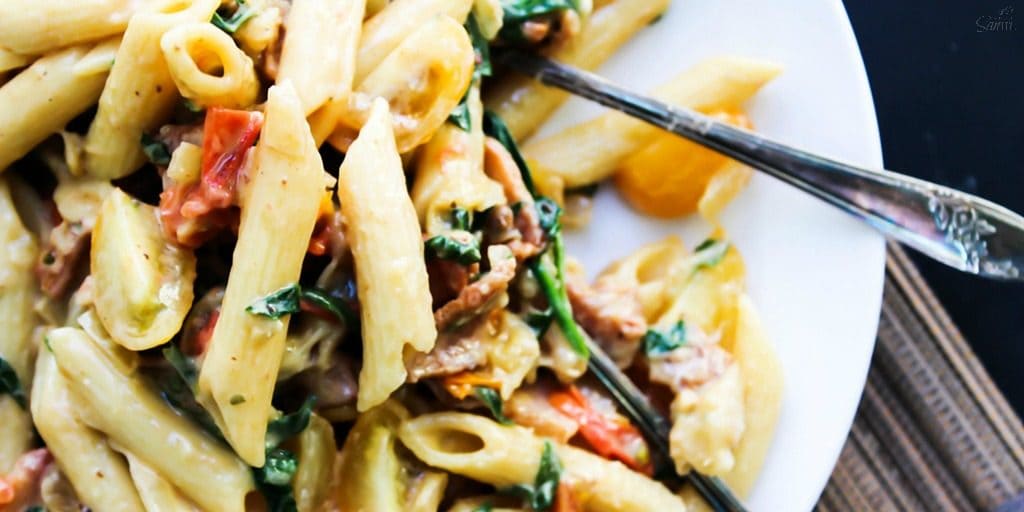 As if BLT's could get better, well scratch that they can. In a creamy, cheesy pasta dish.
What I love about this pasta dish is the medley of flavors. And the bacon, roasted tomatoes and spinach all shine through. The creamy sauce is made purely from the combination of mascarpone and parmesan cheese. This dish is simple to make and ready in less than 30 minutes. Boil the noodles, make the sauce and viola dinner is served. Don't worry if you don't have any roasted tomatoes at your local grocery store, they are easy to make and take only 8 minutes to bake. And if you aren't a huge roasted tomatoes fan, then just use fresh. Still so good.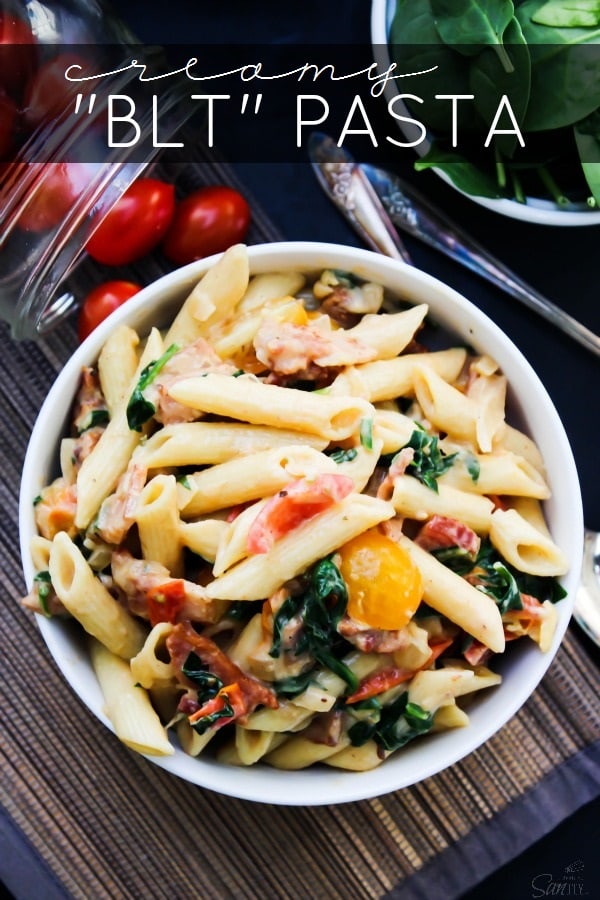 This recipe was inspired by my sister Nicole who swears that my Creamy Sausage & Corn Penne Pasta dish is her favorite. While I love it too, one because of its easiness and the fact that it is also very versatile. So I thought let's change it up a bit and add some different flavors to this creamy delicious sauce and this Creamy BLT Pasta did not disappoint. But I pretty much love BLT anything. Some of my favorite twists on BLT include: Easy BLT Pasta Salad Recipe and BLT Macaroni Salad Recipe. And then of course I am a sucker for creamy pasta dishes like this Chicken Supreme Pasta Bake and One Pot Creamy Tuscan Chicken Pasta.
I love dinners like this Creamy "BLT" Pasta. Easy, ready in less than 30 minutes and the whole family loves it. Cheers to bacon, bacon and well, more bacon with a pinch (of cup full) of cheese. Enjoy! XOXO San
My favorite kitchen items I used to make this CREAMY BLT PASTA.
Knives: A good set of kitchen knives is essential for preparing any meal. I just recently invested in some Cutco knives and I have not regretted it one bit. These are hands down my favorite knives I have owned.
Cutting Board: For me this is a kitchen must-have and kitchen counter saver. While we have counter tops you can cut on, I find that this extra step will preserve my counter. I also find that using a cut board makes for less clean up afterwards. I love this cutting board because it has a groove all the way around the board prevent juices from running all of the counter.
Mixing Bowls: I love having a variety of sizes of mixing bowls. From small to large, I find that having at least 3 bowls of different sizes has been an essential in my kitchen. I prefer Pyrex because of the durability.
Pots – So I am a total pan snob after having an assortment of brands in our cupboard over the years. After getting some Calphalon pans on sale at my local grocer, I won't try anything more. They are affordable and durable – a win, win in our home.
Don't forget to add this to your favorite Pinterest board to save for later.

Ingredients
1 pound penne pasta
1 pound thick cut bacon
½ cup diced yellow onion
2 cloves garlic, minced
3 cups fresh spinach, chopped
1 cup roasted cherry tomatoes, cut in half
½ cup fresh cherry tomatoes, cut in half
1 tablespoon olive oil
1/2 teaspoon kosher salt
8 ounces mascarpone
1 tablespoon Sambal chile paste, optional
1 cup freshly grated Parmesan cheese, dived

Roasted Tomatoes

1 ½ - 2 cups of cherry tomatoes cut in half, I use ½ yellow and ½ red
2 tablespoons olive oil
½ teaspoon salt
¼ teaspoon oregano
¼ teaspoon rosemary
¼ teaspoon parsley
Sprinkle with garlic powder
Directions
Prepare roasted tomatoes.
Toss all of the roasted tomatoes ingredients in a mixing bowl: olive oil, salt, oregano, rosemary, parsley, garlic powder and tomatoes, toss to combine. Set tomatoes on a baking sheet and place in preheated oven of 425 degrees. Bake for 8 minutes.
Remove from oven and cool on pan.
Prepare pasta.
Boil a large pot of salted water of medium-high heat. Add penne and cook according to the package directions. Once noodles are al dente, reserve ½ cup of pasta water, then drain the remaining water from the noodles and rinse noodles with cold water so that they don't stick together.
Prepare sauce while pasta is cooking.
To make sauce heat a medium skillet over medium-high heat. Chop up the uncooked bacon and add to the skillet, cook until done. Once the bacon is thoroughly cooked, drain and place in a bowl, set aside.
Place skillet back on the heat. Add 1 tablespoon olive oil add onion and cook for 2 minutes, then add garlic and cook until onion is translucent. Add roasted tomatoes and spinach. Remove from heat. Add in mascarpone, 1 cup Parmesan cheese, ½ cup reserved pasta water and chile paste, if desired. Stir until cheese is melted and smooth. Stir in bacon and pasta. I add ½ of the pasta and toss to coat.
At this point you can add the remaining pasta or add as much as you would like. If you want a creamier pasta, only add about ½ - ¾ lb. of pasta. We love about ¾ lb. and keep the remaining ¼ lb. of cooked pasta for my son, who hates tomatoes.
Stir in remaining fresh tomatoes. And serve topped with additional parmesan cheese, if desired.
Notes
https://www.dashofsanity.com/creamy-blt-pasta/
Save