This Copycat Hawaiian Punch is a recipe for the classic red fruit punch. This recipe brings back childhood memories of me at the pool with a red stained smile on my face. What is great about this recipe, you don't have to have the red stained smile to be happy.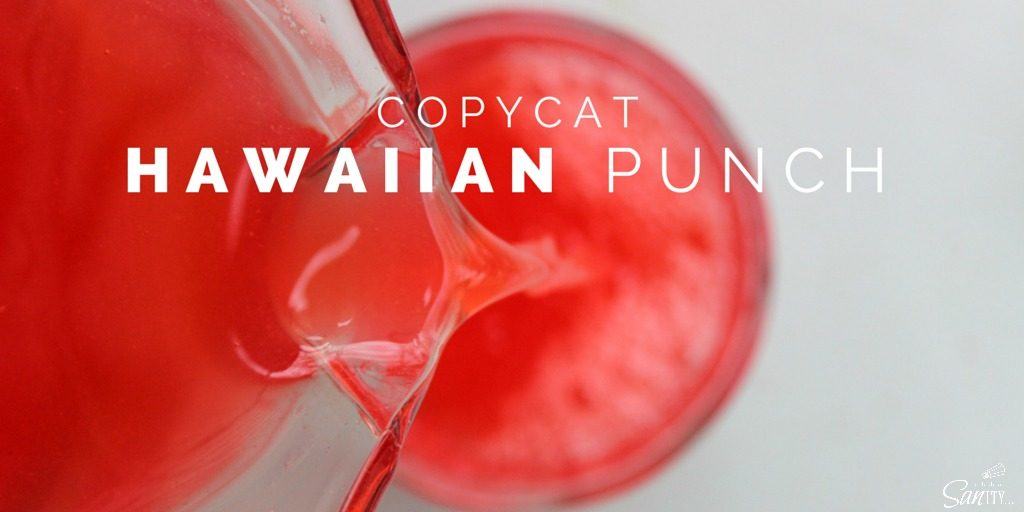 Fruit punches are a spring and summer must have. From parties, showers, barbecues, get-togethers and well, lemonade or fruit punch stands, you can always use a recipe to please your guests.
There are two things that I remember about Hawaiian Punch. The board game, does anyone else remember that? And having this classic summer drink at the pool with my mom and siblings. My sister Tami always had the biggest red smile, I think she did it on purpose.
I hadn't had Hawaiian Punch since then and it wasn't until I saw it in the juice isle next to the juice boxes that I remembered it. I loved it. So I decided to make my own. So while I found a recipe that I loved on-line I couldn't find a few of the ingredients, so I made a couple of changes and you know what it taste just like it. But better! You can even leave out the red-food coloring, which I do most of the time so that you know my kids shirts stay the original color and so does my carpet. And too…that whole red-dye thing. But for nostalgic sake I added in a couple of drops today. And it has that juicy red color that we expect from Hawaiian Punch.
I am excited to try to find that board game now on Amazon, I am sure I'll find it and share it with my kids. And you know we are bringing this Copycat Hawaiian Punch to the pool this summer.
Enjoy!
XOXO San
Ingredients
3 cups water
2 cups pineapple juice
1 ½ cups Kern's Guava Nectar
2 tablespoons orange juice
½ cup apple juice
½ cup Kern's Mango Nectar
2 tablespoons Kern's Apricot Nectar
6 tablespoons granulated sugar
¼ teaspoon Red food coloring, optional (leave out if you don't want the red stained smile)
Directions
Combine all of the ingredients into a 64 ounce pitcher and whisk together until sugar is dissolved. Refrigerate until cold, then serve. Oh, yes it is that easy folks.
This recipe taste best when chilled, trust me we know.
Notes
https://www.dashofsanity.com/copycat-hawaiian-punch-recipe/
Save