Lemon Butter Sauce has two key ingredients lemon and butter; need I say more? A creamy, buttery sauce with a mild tang from the fresh lemon juice.
I am completely in love with Lemon Butter Sauce (Copycat Carrabba's recipe) and seriously our entire family could drink this by the gallons. This we always make to serve with chicken and noodles but this lemon butter sauce works well with fish, especially a great sauce for salmon.
We love just about everything at Carrabba's, here are a few of our favorite copycat recipes: Sicilian Chicken Soup, Copycat Carrabba's Grill Seasoning, Chicken Bryan and Carrabba's Mussels in White Wine Sauce.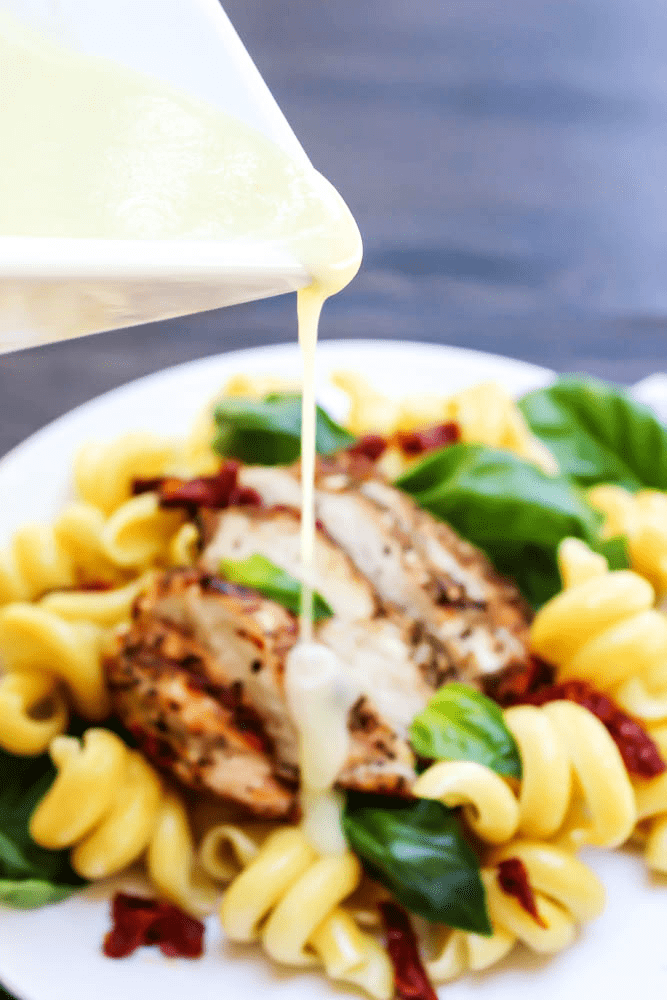 This recipe for lemon butter sauce literally put Carrabba's Italian Grill on the map for us. My husband is obsessed with this sauce. The first time we had it was the night we thought I was going into labor with our daughter Jordan. We were sitting in Carrabba's with Jake's cousin and she ordered this dish, when it came out she told us we had to try it because it was the best sauce ever, oh was she right!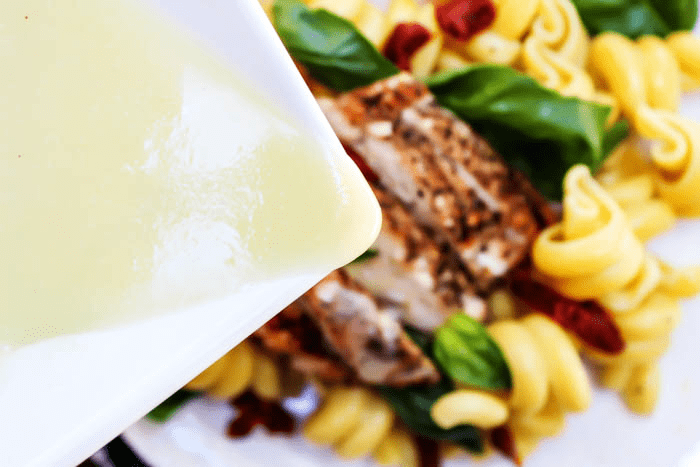 I can only think of one sauce that gives it some competition and that is their Marsala sauce. Seriously both of them are delicious, the main ingredient being butter.
This Lemon Butter Sauce is on Carrabba's most popular dishes the Chicken Bryan. I have the (Copycat Carrabba's) Chicken Bryan recipe and it is our special occasion meal.
Now my husband is a picky pasta eater and he is always on the search for creating the most incredible pasta dish. He tends to lean towards sauces that have big powerful flavors, so this combination of garlic and lemon. At first Jake wasn't willing to try this Lemon Butter Sauce until he learned that that this is the sauce that was all over their Shrimp Scampi. He devoured their scampi so he was willing to give their sauce a try.
This Lemon Butter Sauce recipe has become a staple in our kitchen. Making it to grace pasta, chicken, shrimp, salmon or even a bunch of veggies either way this sauce of awesomeness will soon become a favorite of yours as well.Enjoy! XOXO San

Don't forget to pin Lemon Butter Sauce to your favorite Pinterest board for later.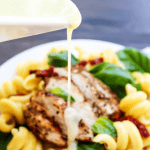 Print Recipe
Lemon Butter Sauce
Lemon Butter Sauce has two key ingredients lemon and butter; need I say more? A creamy, buttery sauce with a mild tang from the fresh lemon juice.
Ingredients
12

tablespoons

cold unsalted butter, sliced into 1/2 inch pieces, divided

2

tablespoons

finely chopped yellow onion

2

garlic cloves, minced

1/3

cup

dry white wine

3

tablespoons

fresh lemon juice

Kosher salt and ground white pepper
Instructions
Place a medium non-stick skillet over medium heat, add 1 tablespoon of butter. Allow the butter to melt, add onion and garlic and cook stirring frequently. Cook until onion is translucent, about 3 minutes. Add the wine and lemon juice and bring to a boil over high heat. Continue to cook until the liquid is reduced to about 1/4 cup, about 3-5 minutes.

Reduce the heat to low, add 3 tablespoons of butter at a time and whisk the butter in until it is completely melted. You want the butter to slowly soften into an emulsified sauce, not quickly melting; it is a process. Add the remaining butter 3 tablespoons at a time until all the butter has been added into the sauce. The last addition will be just 2 tbsp. Season the sauce with salt and pepper, then remove from heat.

Serve immediately or store sauce up to 2 hours at room temperature. If you are to reheat the sauce, do it over a low setting otherwise the sauce will separate.

If it does separate remember the sauce will still taste the same, just not have the same look, it will look more like melted butter. After a few times of making the sauce, you will get the hang of it.

Cooking this sauce on low heat is key.
Notes
Recipe from Carrabba's Italian Grill Recipes from Around Our Family Table cook book
Save