Chocolate Pecan Pie Cookies a delicious chewy chocolate cookie with a classic pecan pie filling center.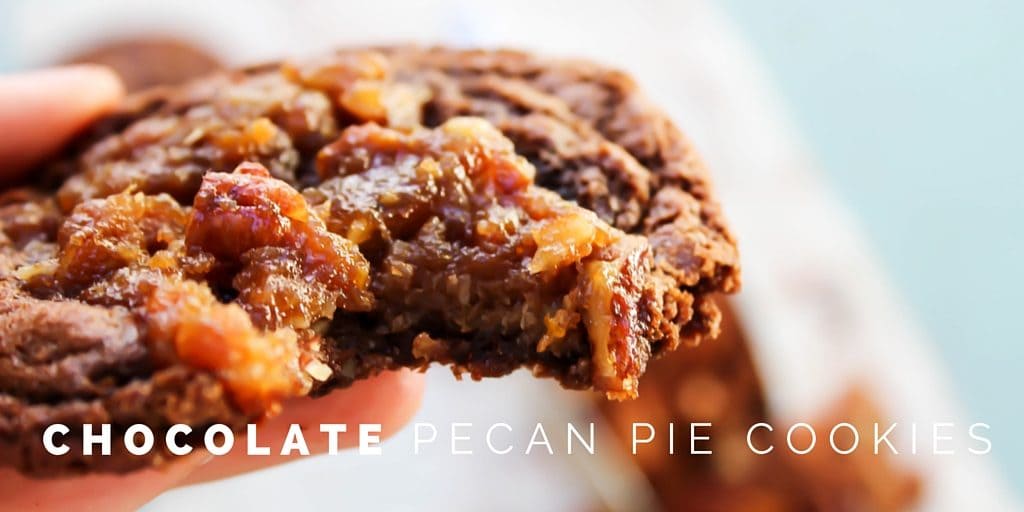 There are somethings in life that you don't appreciate until you get older and pecan pie is one of those things for me. I wasn't a huge pecan fan until my more mature years. Then when I met my husband he loves, loves, loves pecans. So our first Thanksgiving I made a chocolate pecan pie. He tried it the night before Thanksgiving and I had to make another one because he devoured the entire pie. Literally. So every Thanksgiving I make one for him and my dad.
A few weeks ago I made my German Chocolate Cake Cookies for my husband's staff at his school. As I was waiting for the cookies to finish baking, I browsed Pinterest. And came across the most genius Thanksgiving cookie, Pecan Pie Cookies. So dang good. To die for. I will say baker beware, you won't be able to make just one. This recipe is from my sweet friend Holly from Cook Crave Inspire. She is just a sweet heart and makes some of the most amazing recipes including One Pot Pasta with Creamu Tomato Sauce and my new favorite recipe that I will be trying within the next couple of weeks, 5 Minute Chocolate Ganache. Okay so now I am drooling.
But with Thanksgiving and Christmas around the corner and pies galore coming out of the kitchen, take a twist to your traditional pie and make these Chocolate Pecan Pie Cookies. One cookie and you can be done, but you won't…wink.
Enjoy!
XOXO San
Chocolate Pecan Pie Cookies
Ingredients
Chocolate Cookie

2 sticks butter, softened
1 cup light brown sugar
1 cup granulated sugar
2 teaspoons vanilla extract
2 large eggs, beaten
2 1/4 cups all-purpose flour
1/2 cup unsweetened cocoa powder
1 teaspoon baking soda
Pinch salt

Pecan Cookie Filling

2 tablespoons butter, melted
½ cup pecans, chopped
⅓ cup packed brown sugar
¼ cup corn syrup
2 eggs, beaten
⅛ teaspoon salt
Directions
Prepare Pecan Cookie Filling.
Add butter, pecans, brown sugar, corn syrup, salt and beaten eggs to a medium non-stick pan. Cook over medium-high heat until it becomes thickened. Do not overcook, you want it the same consistency as pudding. Remove from heat and set aside.
Preheat the oven to 375 degrees F. Line baking sheets with parchment paper.
In a stand mixer or large bowl using a hand mixer, blend the butter, brown sugar, granulated sugar, vanilla and eggs. In a medium bowl, stir together the flour, cocoa, baking soda and salt. Gradually add the flour mixture into the butter mixture and blend until combined.
Drop the dough by tablespoonful onto the prepared baking sheets, 12 cookies per sheet, and bake 8 minutes. Remove from oven and top cookies with approximately 1 tablespoon of pecan cookie filling on the center of each cookie. Place back in oven and cook for another 4 minutes. Remove from oven and allow to cool on baking sheet. Repeat with remaining doing and pecan cookie filling.
Notes
https://www.dashofsanity.com/chocolate-pecan-pie-cookies/
Save