This CHOCOLATE OREO ICE CREAM CAKE is one of our family favorites. Easy to make with 4-ingredients and insanely delicious, Oreos just got even better.
A twist on my mom's most requested dessert. This Chocolate Oreo Ice Cream Cake will soon become apart of your party traditions too.
I grew up with my mom making Oreo Ice Cream Cake for everyone of our birthdays, for as long as I can remember. There really wasn't another cake that competed in the opinion of my 4-siblings and I. This oreo ice cream cake tradition didn't stop as my siblings and I grew up and moved out of the house. Once we started having kids and the kids were old enough to request their birthday cake, many started make the same request I did as a kid.
My son, Madden who turned 11 last weekend has alway had a deep love and devotion to Oreo Ice Cream Cake. He has been unwavering in his request since the age of 4. This year with friends and family coming over, I knew that I would need to double the infamous ice cream cake. Instead I asked Madden if I could make two, one chocolate and one vanilla. Thankfully he was on board.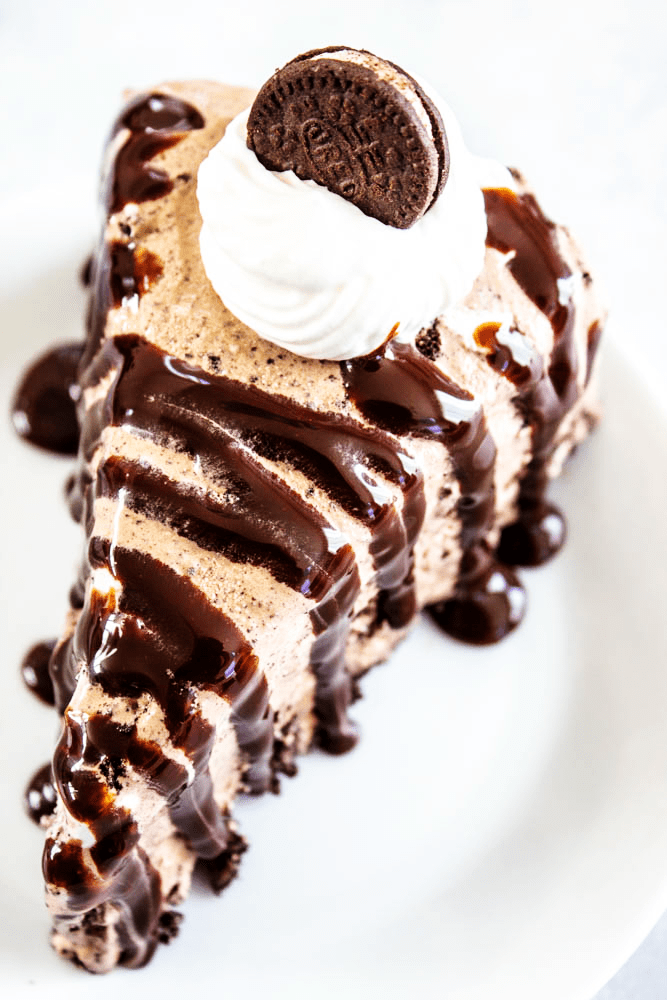 Now, I need to explain a few things. One this hot fudge sauce! It is literally the BEST EVER HOT FUDGE SAUCE you will ever, ever have. Ever! And while my mom didn't include this in her recipe while I was growing up, ever since I started doing it – everyone else has too.
Secondly, the Oreo crust on the bottom was also something I added when I started making this ice cream cake in a springform pan. It just presented nicer and well serving it was easier too with a crust.
These two changes are necessary but simply delicious.
Really adding hot fudge sauce to anything makes it more delicious. And who would have thought that with Oreos? I mean Oreos are pretty amazing, so to elevate them to another level – well, it can be done friends.
I'm all about ice cream cakes for the pure reason that they are easy! Well most of them are anyways. The only thing that can be dangerous about ice cream cakes, well besides eating them. You need to make sure they are in the freezer on a flat surface, otherwise you will have a sloped cake and I am giving you this tip based on experience.
This cake is easy and delicious. So friends, if you can have your cake and eat it too – why not? I can't wait for you to make this CHOCOLATE OREO ICE CREAM CAKE.
And Happy Birthday to my sweet boy, Madden. I love you and so excited to continue to celebrate you everyday throughout your life. XOXO Mom
Enjoy friends. XOXO San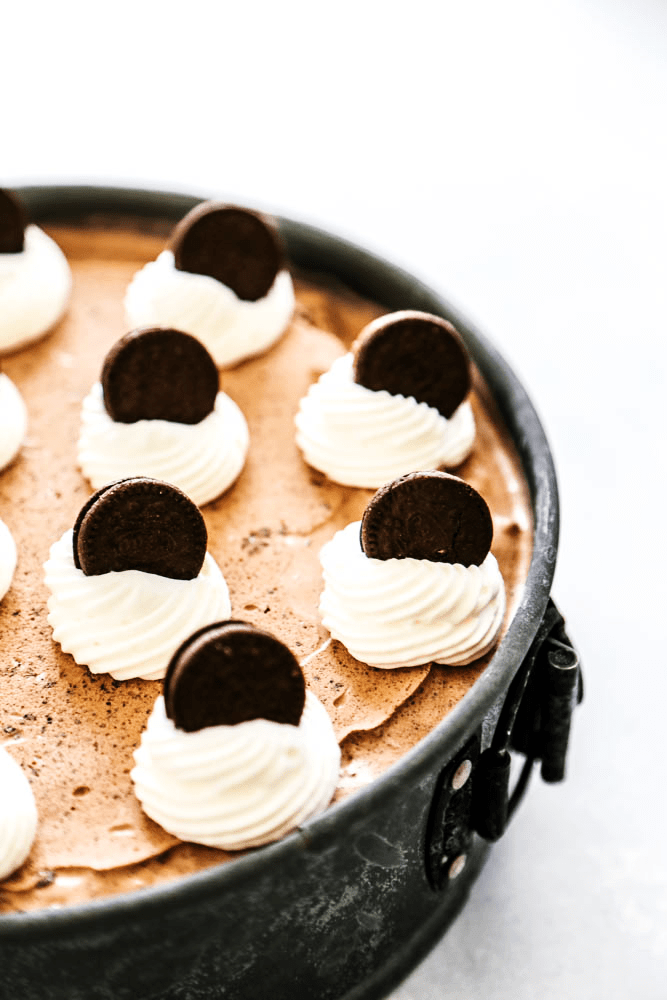 My favorite kitchen items I used to make this CHOCOLATE OREO ICE CREAM CAKE.
This post may contain affiliate links. See my Full Disclosure for further details.
KITCHENAID MIXER: I love my Kitchen aid mixer and use it almost daily. For cookies, breads, sauces, frostings and dough – I find many recipes that I can use my Kitchen Aid to reduce prep time. I have two that I couldn't live without.
SPRING FORM PAN: I don't use this in many recipes but when I need it, it is sort of crucial. I love using this for cakes, quiches and really anything no bake like dips.
MIXING BOWLS: I love having a variety of sizes of mixing bowls. From small to large, I find that having at least 3 bowls of different sizes has been an essential in my kitchen. I prefer Pyrex because of the durability.
Don't forget to pin these CHOCOLATE OREO ICE CREAM CAKE to your favorite Pinterest board for later.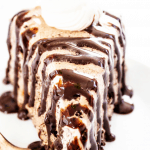 CHOCOLATE OREO ICE CREAM CAKE
This CHOCOLATE OREO ICE CREAM CAKE is one of our family favorites. Easy to make with 4-ingredients and insanely delicious, Oreos just got even better.
Ingredients
1

quart

chocolate ice crea

8

ounces

Cool Whip

14.3

ounces

Oreos

an entire package, roughly crushed

2

cups

Oreos

finely crushed

4

tablespoons

butter

melted
Whipped Cream
2

cups

heavy cream

6

tablespoons

sugar

1

tablespoon

vanilla extract
Hot Fudge Sauce
1/2

cup

brown sugar

1/4

cup

cocoa powder

1/4

cup

butter

1/4

cup

milk

2

teaspoons

vanilla extract
Instructions
Mix together butter and finely crushed Oreos. Press into the bottom of 9x13 pan or 12-inch springform pan; set aside.

Mix together ice cream, Cool Whip and roughly crushed Oreos until well combined.

Add Oreo ice cream mixture into the prepared pan and spread evenly over Oreo crust.

Cover ice cream cake with parchment paper and place in the freezer 3-4 hours.

Once completely frozen, slice and serve.
Whipped Cream
Store bought or homemade whipped cream.




Pour the heavy whipping cream, sugar and vanilla extract into a large mixing bowl, and whisk using a large balloon whisk. I used my KitchenAid mixer and whisked on high approximately for 3–5 minutes, until the cream reaches the soft peak stage. If I did this by hand it would take me a little longer that 3 minutes that is for sure.

You can test for soft peaks by lifting the whisk straight out of the bowl and checking to see if the peak falls if it does, whisk for a bit longer. I like my peaks a little stiffer than soft so I have tendency to mix it for a minute longer, I like this before I like the look on pies and cakes. If I were to make it for hot chocolate I would do softer peaks.
Nutrition Facts
CHOCOLATE OREO ICE CREAM CAKE
Amount Per Serving
Calories 756
Calories from Fat 396
% Daily Value*
Total Fat 44g 68%
Cholesterol 104mg 35%
Sodium 439mg 18%
Potassium 422mg 12%
Total Carbohydrates 87g 29%
Protein 8g 16%
* Percent Daily Values are based on a 2000 calorie diet.
Save