Chocolate Harvest Cake a layered chocolate cake with a pumpkin cream fulling topped with a reach, creamy ganache. Seriously one of the best cakes I have ever made. Epic bringing together pumpkin and chocolate this way.
This Chocolate Harvest Cake is in my Top 5 of chocolate cakes, I have a Top 10 list, but seriously this is in my Top 5.
It is easy to prepare, 10 minutes to make the cake!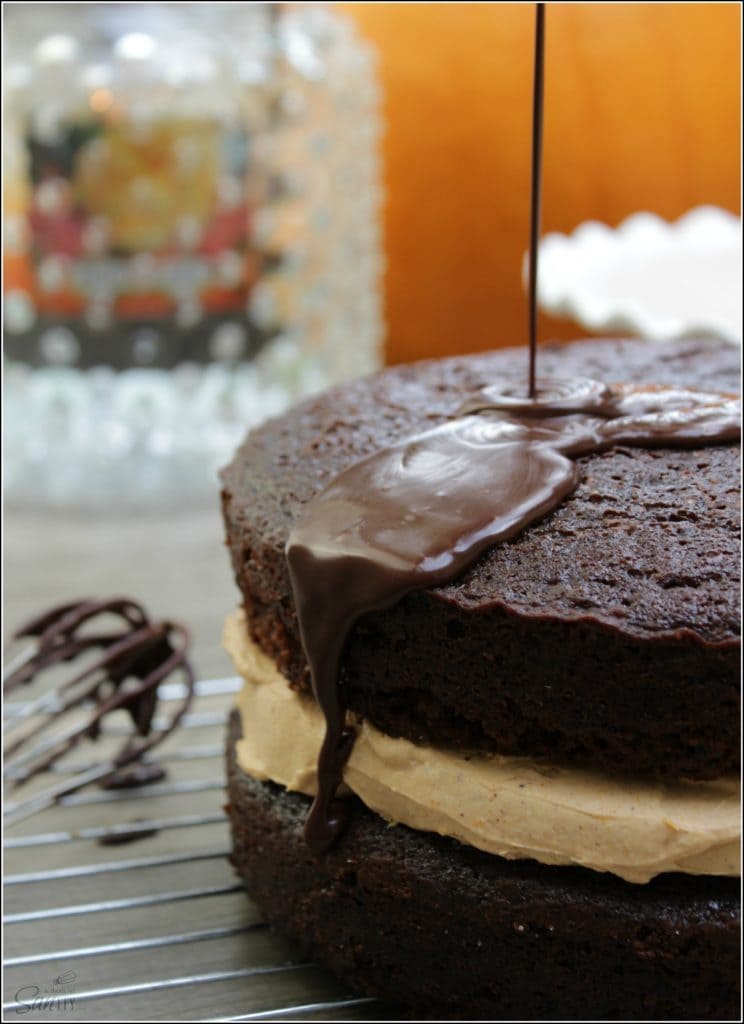 The pumpkin cream cheese filling and glaze are just as easy & simple.
It is a great dessert to serve anytime of the year, but of course fall was just made so we could serve this chocolaty dream.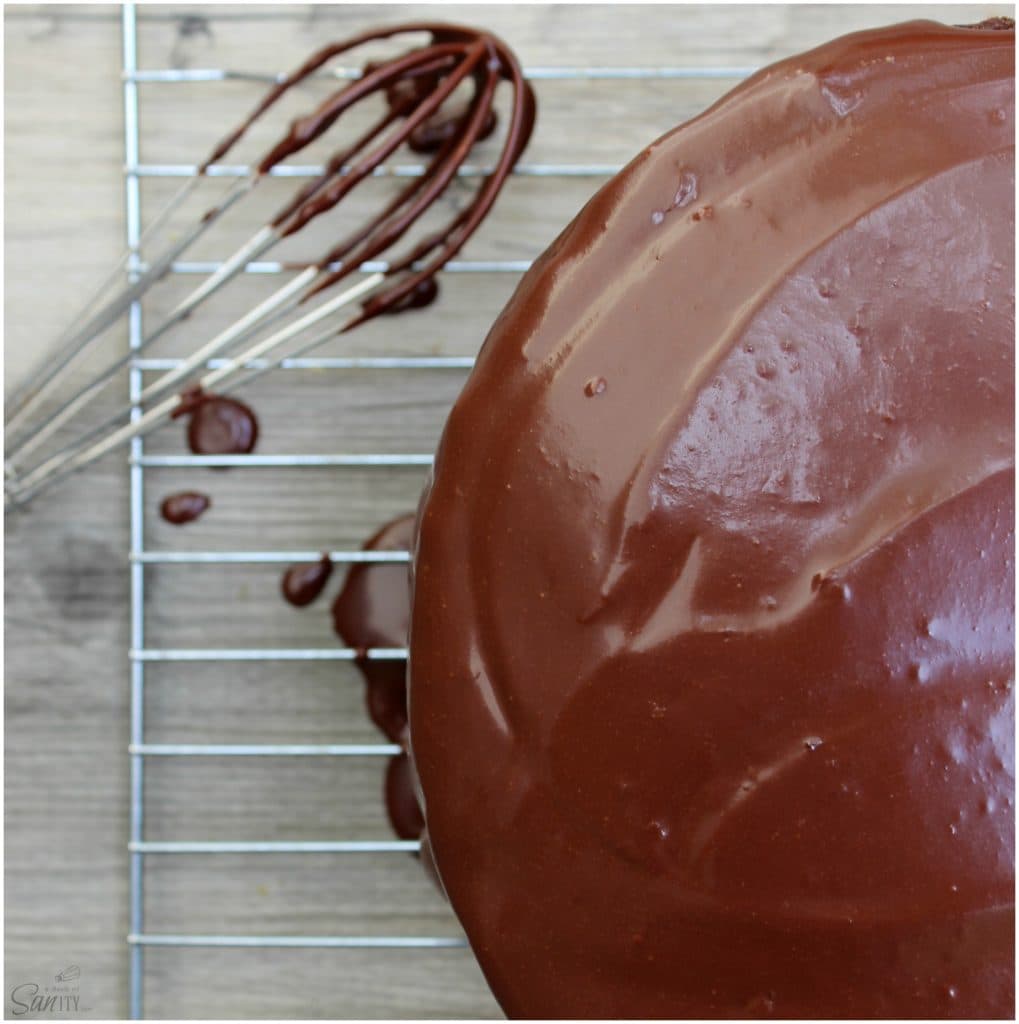 Eight years ago, I got this recipe from a friend who tore it out of a magazine while sitting at the doctor's office, and every year since then I have made this cake. I love looking at the copy she gave me, it has oil and chocolate stains all over it. And even though the recipe will be here now, I can't throw that piece of paper away, brings back too many fond memories.

Enjoy a piece of this chocolate & pumpkin layered cake, I promise, you won't be disappointed.
XOXO San
This Chocolate Harvest Cake is layered with moist chocolate cake, a creamy pumpkin filling, topped with a dark chocolate ganache, fall just became unforgettable.
Ingredients
Chocolate Cake

1 cup buttermilk or 1 cup milk + 1 tablespoon lemon juice, stir together and let it sit for 5 minutes
1 cup water
2/3 cup vegetable oil
2 cups sugar
2 eggs
1 teaspoon baking soda
½ teaspoon salt
2 cups all-purpose flour
¾ cup unsweetened cocoa powder

Pumpkin Cream Filling

1 – 8 ounce package cream cheese
1/3 cup canned pumpkin
¼ cup sugar
½ teaspoon cinnamon

Chocolate Glaze

½ cup whipping cream
4 ounces semisweet chocolate chips
Directions
Pre-heat oven to 350º F.
Grease two 9-inch round cake pans or 1 – 9x13, with cooking spray and lightly dust with some flour, then set aside.
In mixing bowl, add buttermilk, water, oil, sugar, eggs, baking soda and salt; stir together until it is well combined. Add in flour and cocoa powder and whisk until smooth and there are no lumps.
Pour batter evenly into prepared pan(s).
Bake for 30-35 minutes, until you can lightly touch the center and it springs back. Cool pans on a wire rack for 10-15 minutes, then remove cake and allow to completely cool on the wire rack. Once cooled prepare filling.
In a mixing bowl beat together cream cheese, pumpkin, sugar, and cinnamon until well combined and thick.
Place one cake layer on a serving plate, I like to use a cake stand. Evenly spread the filling on top of the bottom layer, then add the second cake on top. Make the Chocolate Glaze.
In a small sauce pan add the whipping cream and bring to a boil, remove from heat and add in chocolate chips. Do not mix or stir them in, let the chocolate sit for 5 minutes. Stir until smooth. Let it cool for about 15 minutes, then pour over cake, allowing it to slowly drip down the sides. Set the cake in the fridge and let it chill for 30 minutes, until cake is set.
You are now ready to serve. Enjoy!
Notes
Recipe from Better Home and Garden Magazine, November 2006
https://www.dashofsanity.com/chocolate-harvest-cake/
Pin this to your favorite Pinterest board for later.

Save