This post may contain affiliate links. See my Full Disclosure for further details.
Comfort. Food. Heaven. Chili Cheese Biscuit Bake classic 5-star chili recipe, layered with cheese and finished off with homemade corn-meal biscuits. A whole lot of deliciousness in a pan.


I love fall weather. One because I can wear jeans and baggy sweatshirt and I don't stand out. And two its chili season. I love the first rain or snow fall, I whip up a batch of my favorite cornbread and chili and it seriously makes the perfect fall day.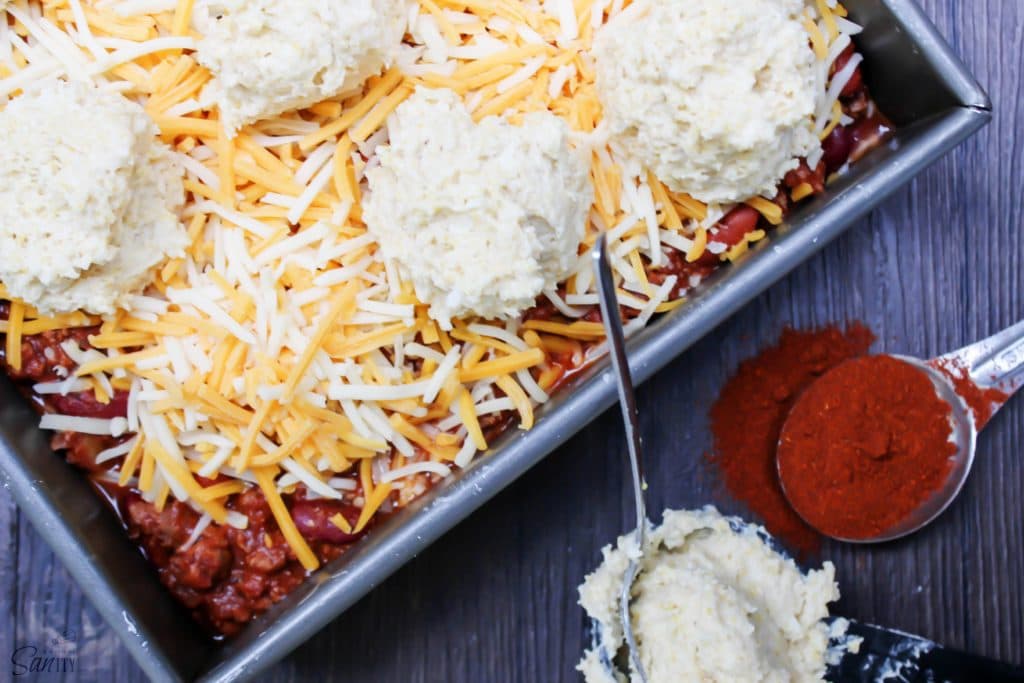 My kids love chili as much as I do and we look forward to having it. My husband on the other hand, hates chili because of the beans. He makes a "chili" without beans and well, I have to say it is pretty good. So good in fact, I have lost every chili cook-off to him. But let me just clarify, I don't categorize his "chili" as real chili, because chili has beans. Agree?!
I while I have been on a Chicken & Dumplings kick, hence the inspiration. I made my chili, topped with cheese, then make corn-meal drop biscuits and baked it all together to make this bake.
It is oh, so good. Easy to make in advance, this is a great meal to take to a friend. An easy meal that the whole family will love. Enjoy! XOXO San
Don't forget to pin this to your favorite Pinterest board for later.
Chili Cheese Biscuit Bake
Ingredients
Chili

2 pounds ground beef
1 onion, chopped
1 teaspoon ground black pepper
1/2 teaspoon garlic salt
3 cups tomato sauce
1 cup salsa
4 ½ tablespoons chili seasoning mix
1 (15 ounce) can light red kidney beans, rinsed and drained
1 (15 ounce) can dark red kidney beans, rinsed and drained

Cornmeal Biscuits

1 3/4 cups all-purpose flour
2/3 cup cornmeal
2 tablespoons sugar
1 tablespoon baking powder
1/2 teaspoon salt
1/2 cup cold Land O Lakes® Butter
1 cup buttermilk*
4 cups mild cheddar cheese
Directions
In a large saucepan over medium heat, combine the ground beef and the onion and sauté for 10 minutes, or until meat is browned and onion is tender. Drain grease, if desired.
Add the ground black pepper, garlic salt, tomato sauce, salsa, chili seasoning mix and both dark and light kidney beans. Mix well, reduce heat to medium-low and simmer for 20 minutes while you prepare the dumplings.
Pre-heat oven to 350°F.
Combine flour, cornmeal, sugar, baking powder and salt in bowl; cut in butter with pastry blender or fork until mixture resembles coarse crumbs. Stir in buttermilk until combined.
Add chili to a 9x13 pan, top with 4 cups of shredded mild cheddar cheese.
Drop by 1/4 cup full on top of the cheese & chili. There will be 12 biscuits total, do these in 3x4 rows. Bake 25 minutes or until golden brown, remove from oven and serve.
Notes
https://www.dashofsanity.com/chili-cheese-biscuit-bake/
Save