These Chicken Cordon Bleu Sliders are so deliciously simple; making an easy game time snack or a wonderful 20-minute meal.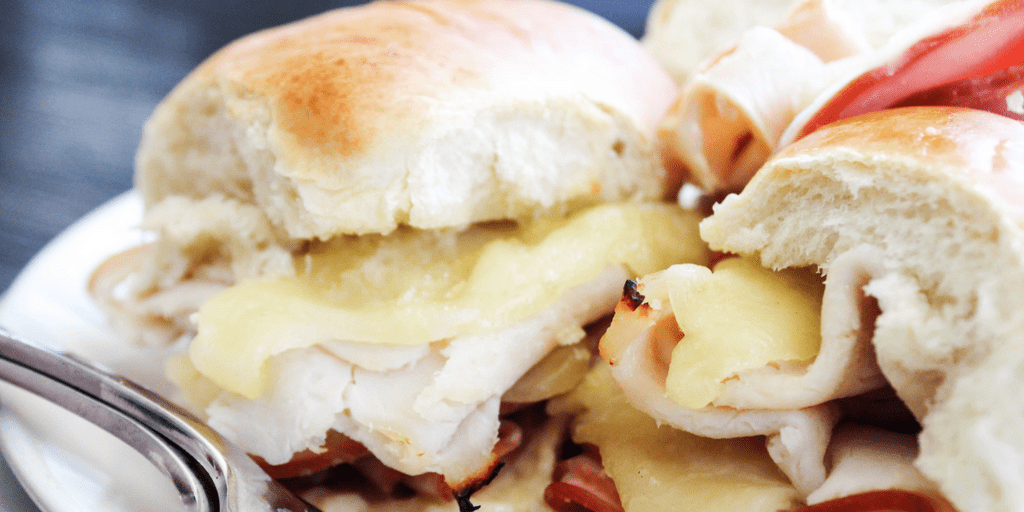 Since the days of Google, there haven't been many times where I've cracked open a cook book and found dinner. I mean, with Pinterest, I can be set for a month. But while Google and Pinterest can be a great resource of info, you never know what you're actually going to get. Recipes can be hits or misses, right? And there is nothing more frustrating than trying one out and having it be a fail. So once I find a gem of a cook book, I stick to it. And friends, I am sharing a gem with you today.
These Chicken Cordon Bleu Sliders literally take 20-minutes to prep, bake and serve. You can't get much better than a roll with layers of Swiss cheese, chicken and ham… but you can. Add some honey mustard and you have just the punch of flavor you need for a memorable sandwich. I got the recipe from my sweet friend Mary Younkin who blogs over at Barefeet in the Kitchen. She recently published The Week Night Dinner Cook Book: Simple Family-Friendly Recipes for Everyday Home Cooking.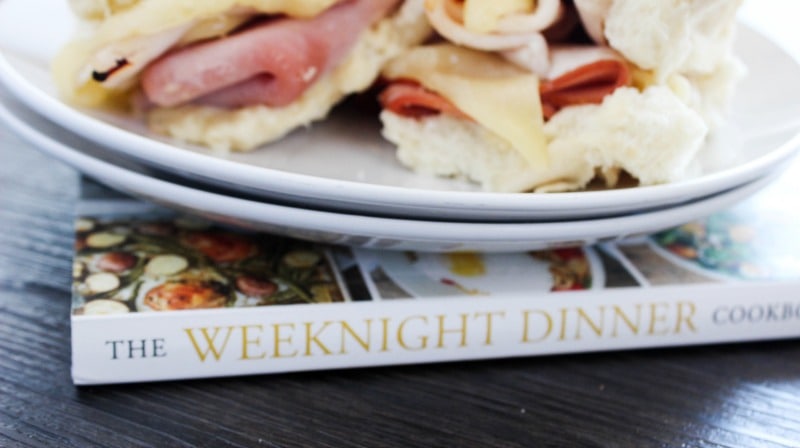 Mary's cookbook perfectly resembles her. Reliable, trustworthy and generous. This book simplifies your dinner hours without sacrificing flavor, allowing time for your family to be together around the table over a meal that everyone loves. And that's exactly what Mary loves: family & food, togetherness, and Comfort. Tried and true.
After trying this recipe, I made five more. And I won't stop there. I made two of the meals for lunches and had some friends over – little prep time and the ladies oohed and awed. I have made these sliders three times, and I even made a batch for the family while I'll be out of town because I know my mother-in-law will just love them. They're a perfect bite for lunch and for the upcoming Bronco games. Just check just how easy they are.
I ordered two copies before I even received my copy because I attended a Blogger-Sleepover with Mary and just hearing her describe her recipes, how she came up with them, how she tested them, I knew I had to have it. This book was crafted to make your life simply delicious. And it does more than that. You get a glimpse of Mary's heart as she gives you a seat at her dinner table, inviting you in one recipe at a time.
Check out the amazing The Week Night Dinner Cook Book – you'll find more than just dinner; you'll find a friend too.
Enjoy! XOXO San
Chicken Cordon Bleu Sliders
Ingredients
12 sweet dinner rolls
12 slices deli black forest ham, sliced very thin
12 slices deli chicken breast, sliced very thin
1/2 lb. Swiss cheese, thinly sliced

Honey Mustard Sauce

1/4 cup mayo, I use Hellaman's
1 1/2 tablespoons Dijon mustard
1 1/2 tablespoons honey
1 teaspoon fresh lemon juice, I just gently squeezed 1/2 of a lemon
pinch of kosher salt
Directions
Preheat oven to 400 degrees.
Make honey mustard sauce by whisking all of the ingredients together in a small bowl, set aside.
Slice dinner rolls in half and place the bottoms, cut side up on a baking sheet. I just used the foil that they came on.
Add 1 teaspoon of the honey mustard sauce onto the top of each roll on the sheet. Place one slice of ham folded into a pile onto the top of each roll, directly on the honey mustard. Lay a 1/2 slice of Swiss cheese or a whole slice, folded in half on top of each piece of ham.
Next, lay a slice of chicken breast, folded in a pile on top of the cheese. Then add a second piece or other half of the Swiss cheese on top of the chicken breast.
Place rolls tops back on, placing directly on top of the cheese and bake for 5-6 minutes.
And use the remaining honey mustard sauce for dipping.
Or you can, like I did, add the extra remaining honey mustard sauce onto the cut side of each roll, 1 teaspoon on each roll, then lay the rolls on top and place in the oven to bake for 5-6 minutes or until cheese is completely melted.
https://www.dashofsanity.com/chicken-cordon-bleu-sliders/
Save