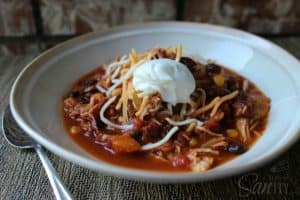 Chicken Chili
So the forecast for today in Fort Collins, CO is a high of 44 degrees. Can anyone say….crock pot day? I love a good slow cooker meal! I love the way it makes the house smell, the warmth that is gives off, the ease of making dinner and the compliments I get from the kiddos for such a great meal. Stay warm & go grab a caramel apple cider from Starbucks and let the slow cooker do the work.
Serve with Whole Wheat Tortillas: https://www.dashofsanity.com/2013/10/whole-wheat-tortillas/
Ingredients:
1 16 oz. can black beans, drained
1 16 oz. can kidney beans, drained
2 garlic cloves, minced
1 medium red onion, chopped
1 jalapeno pepper, minced
1/2 green bell pepper, chopped
1/2 red bell pepper, chopped
1/2 orange bell pepper, chopped
2 carrots, diced
10 oz. package (1 1/4 cups) frozen corn kernels
1 8 oz. can tomato sauce
1 28 oz. can diced tomatoes, drained
1 tablespoon cumin
1 ½ tablespoons chili powder
1 teaspoon dried oregano
1 teaspoon kosher salt
1/2 tsp. freshly ground pepper
2-3 boneless, skinless chicken breasts, uncooked
1/4 cup chopped fresh cilantro, more to top
Directions:
Combine all the ingredients in the slow cooker/crock pot. Stir until combined. Place uncooked chicken on top and cover. Cook on low for 6 hours (this is my ideal way to cook it) or on high for 4 hours, stirring occasionally.
1 hour before you serve pull chicken breasts apart with two forks. Stir and continue cooking. I remove the lid about 30 minutes before I serve to cool it off a little and it thickens up a bit.
Top with fresh cilantro, shredded cheese, chopped scallions, avocado, sour cream or plain Greek yogurt.
My review: I love to double this recipe. If I do I use a combination of dark and white meat, 2 chicken breast with 5-6 chicken thighs.
Kids review: They love this with home-made whole wheat tortillas or corn bread.
Save