This post may include affiliate links. Please see my disclosure.
It doesn't have to be after 5 o'clock to enjoy this Cherry & Berry Spritzer. So sit down and pour a glass, your day will be so much better because you did.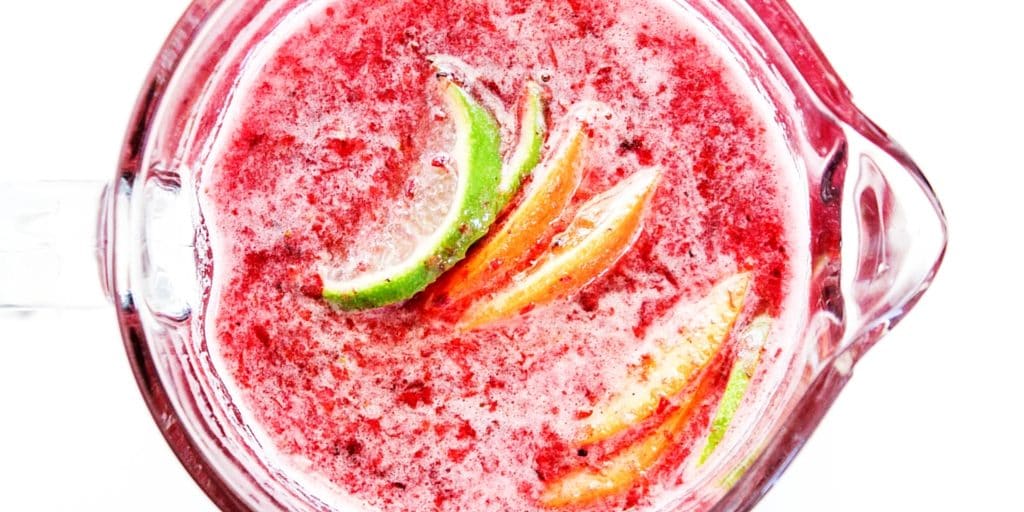 Sometimes special occasions call for special drinks and that is exactly what we did for my son Aiden's birthday yesterday. We made this Cherry & Berry Spritzer. I thought he would be uber impressed but I would say it was my husband Jake who was over the top in love with this drink. I think he was responsible for drinking at least 1/2 of the pitcher. Which made me happy. Noted as his favorite drink ever.
What is great about this Cherry & Berry Spritzer is that there doesn't have to be a special occasion to make it. It is a great thirst quenching for those warm spring and summer months. And it is just absolutely gorgeous on the table of a shower, picnic or party. I love how simple spritzers are to make and the beautiful touch they give to any type of meal or snack time spread. I would say between this Cherry & Berry Spritzer, my personal favorite Strawberry Mint Spritzer and the kids favorite Tropical Italian Cream Soda our summer months are covered in the drink category.
Cheers friends.
XOXO San
Ingredients
1 package (10 ounces) frozen cherries & berries
2 liters lemon-lime soda, chilled, I used Fresca
1 can (12 ounces) frozen pink lemonade concentrate, thawed
Orange, lemon and or lime sliced, as an optional topping
Directions
Place the frozen cherries & berries in a blender or food processor and turn on to chop up the cherries and berries into small, small pieces, some of the cherries & berries may even become pureed. NOTE you may depending on your blender need to add some of the lemonade & soda mixture below, to help blend it up.
In a large pitcher stir together soda and lemonade concentrate.
Spoon the ½ of the pureed mixture into the soda and lemonade mixture and stir to combine. Strain spritzer through a strainer to get rid of the fruity chunks.
Add remaining puree and gently stir together. Be careful the spritzer will bubble and you don't want it over flowing your pitcher. If you don't have a large pitcher just divide among two smaller pitchers. Slice orange, lemon and/or lime and add to the top of the drink.
Refrigerate until ready to serve.
Pour into individual glasses and drink away.
Notes
https://www.dashofsanity.com/cherry-berry-spritzer/
Don't forget to pin this to your favorite Pinterest board.



Find my favorite pitchers over at Amazon.com

Save