Thank you to Farm Rich for collaborating with me on this post, all opinions expressed our my own.
Cheesy Pizza Casserole is an easy 30-minute meal loaded with your favorite pizza toppings, cheese, cheese & more cheese. A slice of cheesy goodness, and there my friends is the best recipe to celebrate National Cheese Day.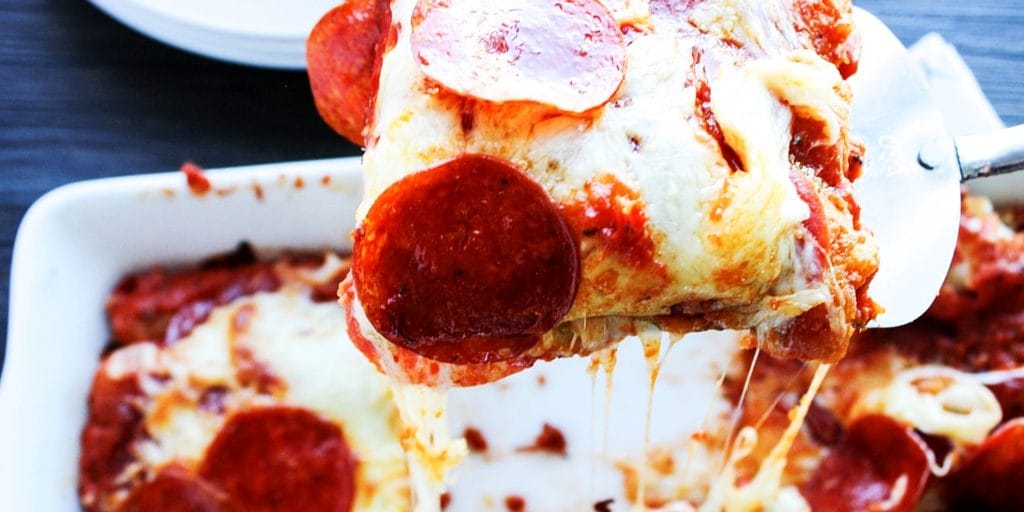 Today, I am collaborating with Farm Rich to bring you this awesome drool-worthy Cheesy Pizza Casserole. And be sure to check out some more delicious cheesy recipes at the bottom of my post. All simple, easy and delicious recipes using Farm Rich Mozzarella Sticks.
My kids love pizza night in our house, which is once a week. From homemade to delivery or dine-in, we love pizza. My husband loves just a little cheese on his pizza, just kidding he loves a TON of cheese on his pizza. He might as well order a block of melted cheese with a side of pizza crust. And my kids must have received that cheese-lovin' gene from him which is what inspired this Cheesy Pizza Casserole.
I used Farm Rich Mozzarella Cheese Sticks and layered them with pizza sauce, cheese and toppings making this an instant hit in our home. The first time I made it my kids didn't speak to me, then after about 15-seconds of peace and quiet, the silence was interrupted with applause. Jordan leading the clapping, they were impressed with this recipe and they said it was better than pizza. AWESOME. What makes it even more AWESOME is that this recipe for Cheesy Pizza Casserole is easy to make. Assemble it in 5 minutes, bake it for 20 and this casserole is ready to eat in less than 30-minutes. Now, that my friends is the best kind of meal.
I love Farm Rich products. Their Mozzarella Cheese Sticks are the best, check out the cheese goodness.
There is not a better way to celebrate National Cheese Day than with this Cheesy Pizza Casserole. Cheers to easy meals, great recipes and well, cheese.
XOXO San
Ingredients
18-24 Farm Rich Mozzarella Cheese Sticks
1 ¼ cup pizza sauce
1 – 1 ½ cup freshly grated Mozzarella cheese
Toppings of your choice: I used pepperoni
Other topping ideas:
Onion, diced
Bacon, chopped
Sausage
Olives
Green pepper, diced
Jalapenos
Directions
Preheat oven to 450 degrees.
Spray baking pan with cooking oil, then add a single-layer of Farm Rich Mozzarella Cheese Sticks on the bottom of the pan, as pictured.
Top Mozzarella Sticks with pizza sauce and spread evenly. %http://www.adashofsanity.com/wp-content/uploads/2016/06/Cheesy-Pizza-Casserole-PEP.jpg
Add pizza toppings, save a few to garnish the top of the pizza with.
Sprinkle grated mozzarella cheese over pizza sauce & toppings, add the left over toppings on top of the cheese.
Place pan in preheated oven for 20-25 minutes, remove from oven. Serve & devour immediately.
Enjoy friends.
https://www.dashofsanity.com/cheesy-pizza-casserole/
Love what you see here be sure to check out these another cheesy recipes:
Bacon Wrapped Jalapeno Poppers
Mozzarella Sticks Grilled Chesse Sandwich
Don't forget to pin this to your favorite Pinterest board to make for later! Sharing is caring, send to your friends and family that would enjoy this recipe as well.

Save