These Buried Treasure Cupcakes are filled with little mini-"gems". Leaving the pirates completely satisfied at your party.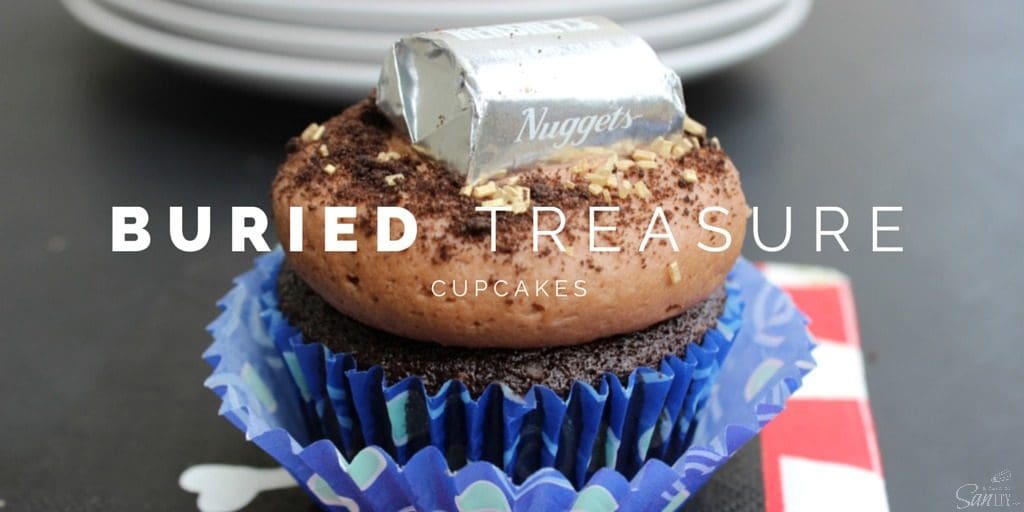 This year my son Madden turned 8.

A very big deal and with lots of celebration. Which isn't Madden's personality at all. Being the middle child of 5 he doesn't really seek attention or for that matter doesn't like a lot of attention on him. But this year, he soaked in every bit. I mean check out this smile.
His party changed from moment to moment and theme to theme that was until it became a pirate party. He was set. Decorations ordered, love Amazon. Menu determined: hot dogs, buns, chips and watermelon all Madden's picking. Then there was the most important part….the cake.
My kids love coming up with ideas for me. But Madden couldn't decide what he wanted that is until I came up with this idea. Originally we were going to crush up Jolly Ranchers as the crystals in the middle of the cupcakes. But with 17 kids attending the party the risk was high of a cracked tooth or complaint of the hard candy in the middle. That is when I went with Mini M&M's and who doesn't love these little pieces of chocolate?!
In the end the party was a success, sword fights and all and most importantly the cupcakes were a "treasured" hit.
XOXO San
Ingredients
1 1/2 cups flour
1 cup granulated sugar
1 teaspoon baking soda
1 teaspoon salt
1/3 cup cocoa powder
1/2 cup oil
1 cup water
1 teaspoon vanilla extract
1 tablespoon white distilled vinegar

Chocolate Buttercream

1 cup of butter, softened
1 teaspoon of clear vanilla extract
¼ cup cocoa
4 cups confectioners' sugar
2 tablespoons of milk

Buried Treasures

1 bag Mini M&M's
15 Milk chocolate Hershey's Nuggets
12 Oreo Cookies, smashed to crumbs
3 tablespoons gold sprinkles
Directions
Chocolate Cupcakes click here to get directions.
Buttercream
In a large bowl, I use my Kitchen Aid mixer cream together butter and vanilla. Slowly blend in the confectioners' sugar, one cup at a time beating well after each addition. Beat in the milk and cocoa powder and continue mixing until light and fluffy. You may need to add more confectioners' sugar or milk until you find the right consistency, this varies every time I do the recipe. If you are not going to use the frosting right away keep covered until you are ready to do so.
To make Buried Treasure Cupcakes
Hole out the center of the cooled cupcakes by using a cereal spoon and scoop out the center, as pictured.
Fill with Mini-M&M's.
Frost tops of cupcakes with Chocolate Buttercream frosting.
If needed smooth out the frosting then top with 1 Hershey's Nugget, still wrapped in paper.
Generously sprinkle top of cupcake with Oreo cookie crumbs and then a pinch of gold sprinkles.
Repeat process with remaining cupcakes, frosting and candy.
Serve immediately or save for later. If I use them that day, I leave them out. Otherwise I store them in a box and stick the box in a trash bag and tie it shut, keeps them from drying out.
https://www.dashofsanity.com/buried-treasure-cupcakes/
Save