This is a sponsored post written by me on behalf of Lodge Cast Iron cookware.
Savor summer with this BEST EVER PEACH COBBLER RECIPE. This classic & traditional dessert is made with just a few simple ingredients and is so easy to make.
Every time I make any sort of cobbler I think to myself, why don't I make these more often? We're talking very few simple ingredients and one of them being fresh fruit!
There are two things key to making this the best ever Peach Cobbler you will ever have. The first is a secret I learned from a friend, Sharae. I learned this trick the first time we ate dinner at her house where she made the best apple crisp I've ever had. I asked her why hers was so much better, and she said, "Cake mix."
Instead of using traditional flour as a part of the crumb topping, she substituted it with yellow cake mix – not prepared cake mix, just the powdered part. It makes such a difference!
The second is using a cast iron skillet. It makes the perfect, most absolute delicious caramelized fruit. Literally, my favorite part of eating a cobbler is eating the caramelized fruit from the side of the skillet. Now other pans will work, but using a cast iron skillet takes it to a whole new level I didn't even know existed.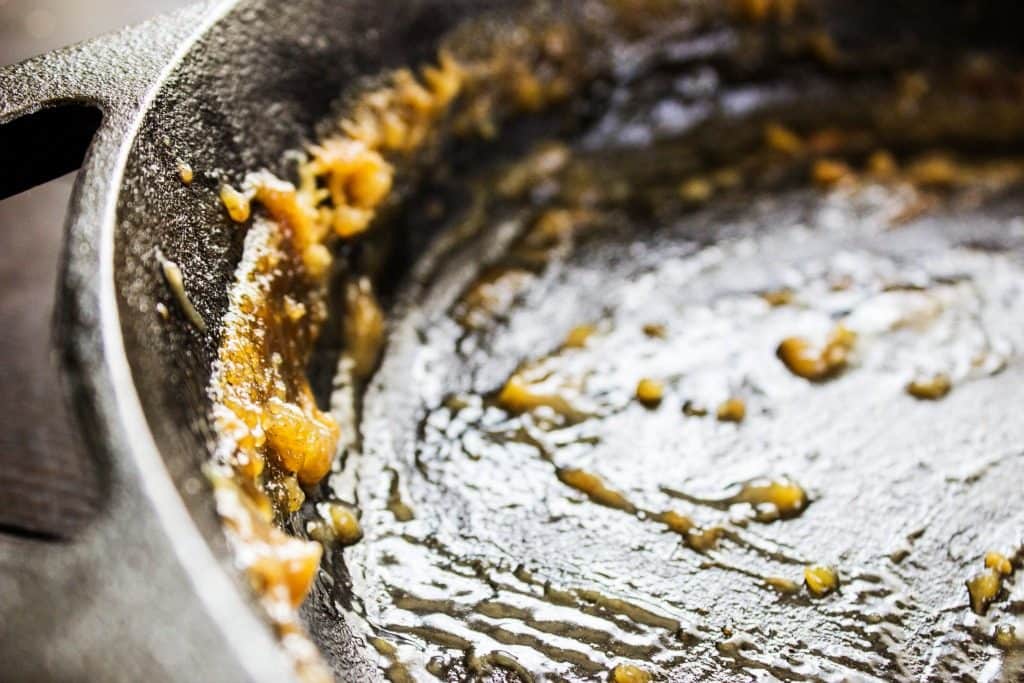 I prefer using Lodge Cast Iron cookware. And now that I've used my Lodge skillet in perfecting the art of cobbler, I will never use another pan. My favorite part of my Lodge Dual Handle Pan is that it comes seasoned and ready to use! There is no complicated seasoning process needed to get started. I can't wait to use it for our other favorite cast iron skillet recipes like corn & flour tortillas, and of course, for searing our meats.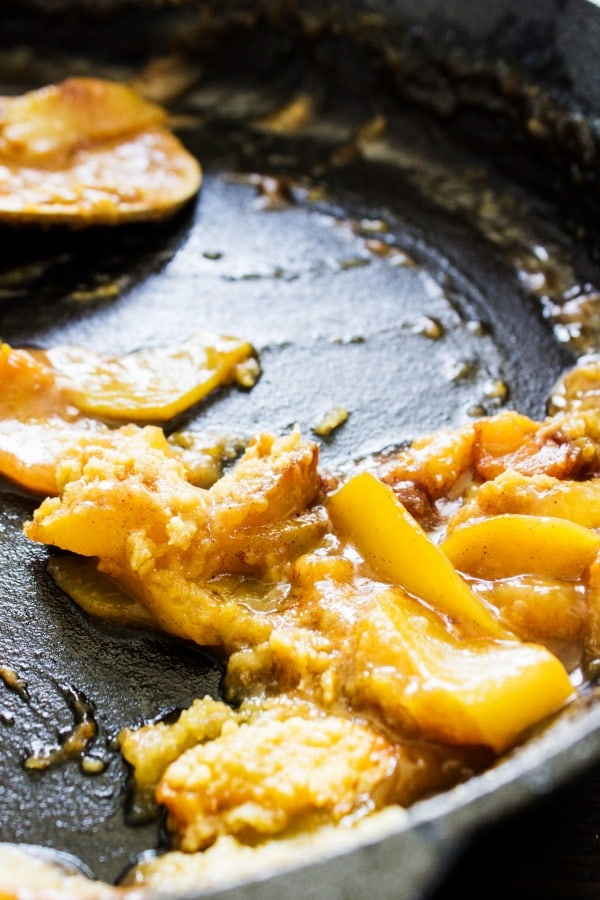 I am usually the kind of baker & cooker that feels like I can work with any sort of pots and pans, but on occasion, I cook with one that makes me realize I do have favorites. That is the case with this Lodge Dual Handle Pan – I have the 12-inch skillet, and you can guarantee I'll be ordering another! An added bonus is that right now, you can use DUAL25 as a code to get 25% off any of the dual handle products. I would highly suggest getting the 10.25 pan as well. Just head over to Lodge Cast Iron cookware and use the DUAL25code to get 25% off.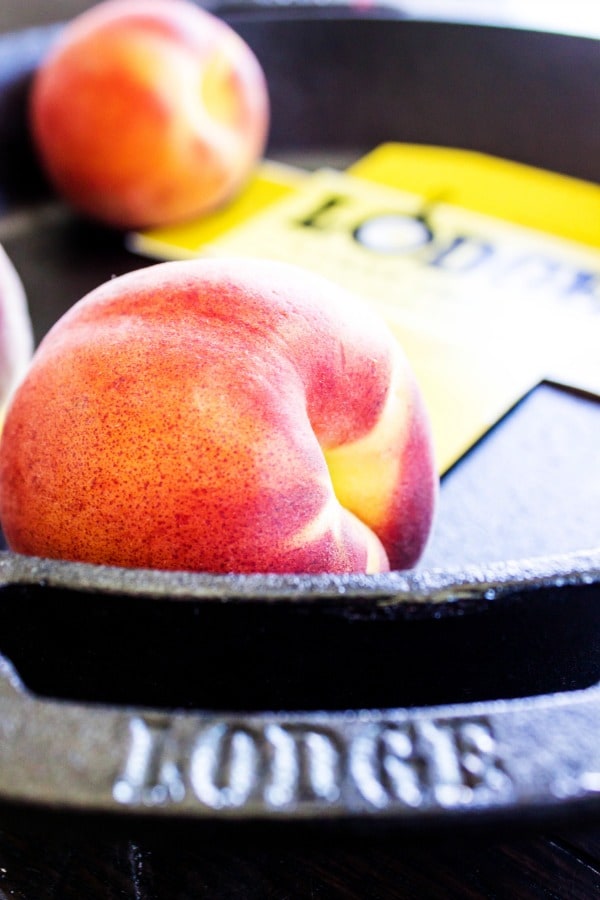 And here's an added bonus. Many prefer to cook with cast iron while camping or picnicking, but some of my skillets and pots in the past have been hard to clean. Lodge Cast Iron cookware is easy to clean! Just hand wash, dry promptly, rub with oil and you're set for your next use.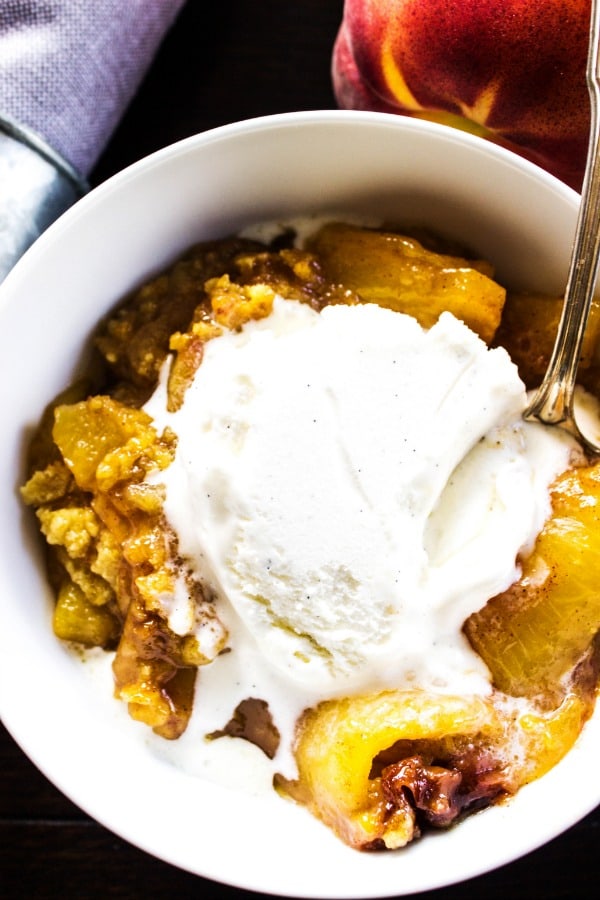 Sometimes it's the little things we do with our recipes that make them over-the-top amazing, whether it's the special pan we cook in or a twist in a recipe we learned from a friend. I love this Peach Cobbler, and you can bet that this will be making our dessert rotation. XOXO San
Don't forget to pin this BEST EVER PEACH COBBLER RECIPE to your favorite Pinterest board for later.

BEST EVER PEACH COBBLER RECIPE
Ingredients
10-12 ripe peaches, pit removed, peeled & sliced
1 1/2 tablespoons lemon juice
2 teaspoons cornstarch
1/4 cup brown sugar
1/4 cup white sugar
1 1/2 teaspoons vanilla extract
1/2 teaspoon cinnamon

Crumb Topping

1 1/4 cups yellow cake mix, just the mix!
1/4 cup brown sugar
1/2 teaspoon salt
1 teaspoon baking powder
6 tablespoon chilled butter
2 tablespoons sugar
3/4 teaspoon cinnamon
Directions
Preheat oven to 425 degrees.
In a large bowl, add sliced peaches, lemon juice, cornstarch, brown sugar, white sugar, vanilla and cinnamon. Gently toss to combine. Pour peach mixture into skillet or 2-quart baking dish. Bake in oven for 10 minutes.
While peaches are baking make crumb topping.
In a small mixing bowl, combine the 2 tablespoons sugar & 3/4 teaspoon cinnamon. Stir to combine and set aside.
In a medium mixing bowl, combine the remaining crumb topping ingredients: yellow cake mix, brown sugar, salt and baking powder. Stir to combine. Add butter, and using a pastry blender or a fork, cut butter into the mixture until it resembles coarse crumbs.
Once the peaches are done cooking, remove from oven and sprinkle to your taste the cinnamon and sugar. Then add the crumb topping to cover the peaches entirely. Set back in the oven and bake for 25-30 minutes or until crumb topping is a nice golden brown.
Serve immediately. It's great with vanilla ice cream or whipped topping.
Notes
https://www.dashofsanity.com/best-ever-peach-cobbler-recipe/
   This is a sponsored post written by me on behalf of Lodge Cast Iron cookware.
Save