Best Ever German Chocolate Cake a moist chocolate cake and traditional coconut pecan frosting, layer upon layer of goodness.
This Best Ever German Chocolate Cake or as my grandpa said, "the best damn cake ever!" A double layer chocolate cake with a classic German Chocolate Cake frosting.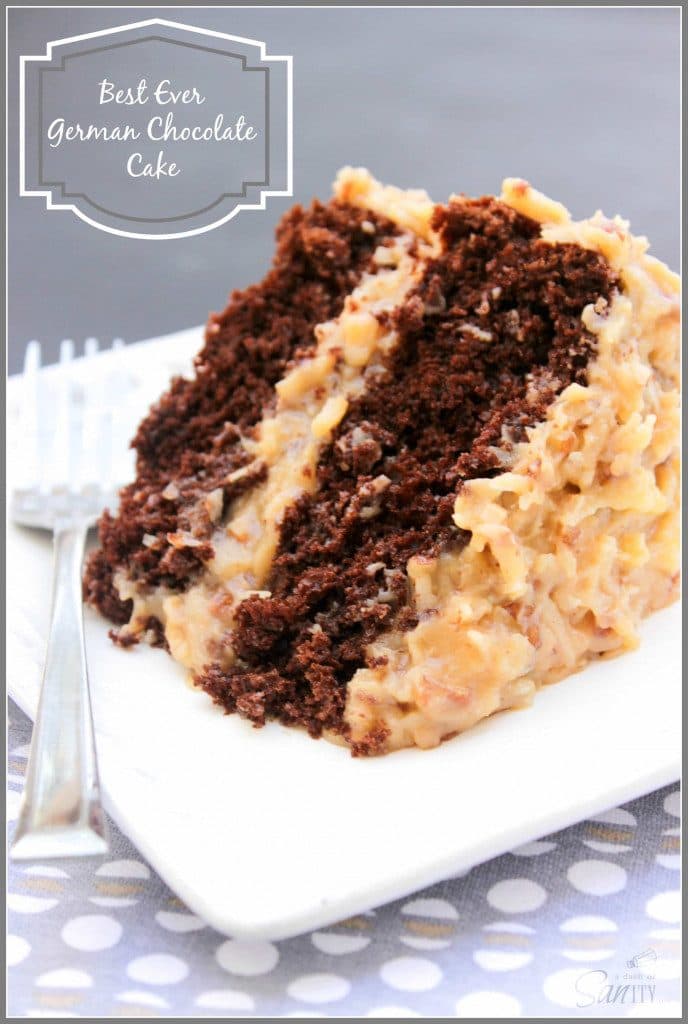 Today's recipe is a tribute to my Grandpa, who passed this last Thursday at the age of 80.
My Grandpa was one of my biggest cheerleaders, and I honestly can't think of a time he didn't praise what I was doing. He especially loved my baking. He had a few favorites – really anything I made – but he would often call and offer to pay me to make biscotti, and on his last few birthdays, I would make him his favorite: German Chocolate Cake.
He loved these German Chocolate Cake Cookies and I wish I would have made the German Chocolate Cake and cookies for him more often.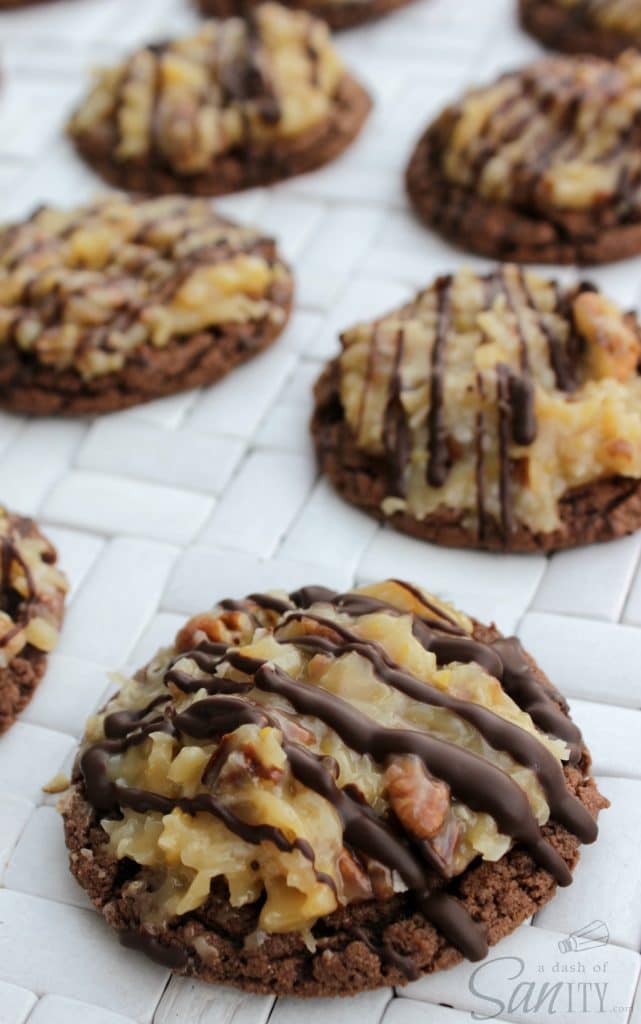 I have the best memories of my Grandpa while I was growing up. I rode in my first convertible with him, talked on my first car phone in that very same convertible, went to my first flea market, and even learned to barter with him. I got my good business sense from him.

My sister, Nicole, and I would fly out to see him and my grandmother in Arizona and make up dance routines in his hot tub. He said we would be famous… and we were to him.
One of the most vivid memories I have was with my first school dance and date, my parents were out of town and I was staying with my grandparents. While I was getting ready, my Grandpa made it clear what would happen to this boy if there was any "fooling around", and he wasn't joking.
(That was the last date with that boy. My grandpa read people very well).
My grandpa always had to be somewhere other than where he was and this got worse as he got older. "When are we gonna go grandma?" "Time to get home Betty." Even though he was always eager to go, we knew he loved being around all of us, especially his 9 great-grandchildren.
He loved to play cards, ride his bike, fish, and he loved people. He worked as a claims adjuster for Prudential and All State and was passionate about his job!
My grandpa was an American hero, serving in the Korean War as a medic in the Army. After returning from the war, he married his "Marilyn Monroe" – my grandma.
He was proud of my grandma, and over the years, he relied on her to tend to him as he battled many illnesses, including cancer. He was a proud Eagle Scout and had recently given all of his scout stuff to my husband, a scoutmaster. He was super proud when my son Aiden recently achieved his Arrow of Light in cub scouts. In fact, when Aiden was given the news of his G-pa's passing, Aiden went and got out G-pa's Boy Scout sash and said he would wear it in honor of him.
There are many great memories I will cherish, and every time I go to make my biscotti, cookies, and German chocolate cake, he will be next to me, asking for a bite or offering me 5 bucks for a slice.
Love and miss you G-pa! XOXO San
HOW TO MAKE THE PERFECT GERMAN CHOCOLATE CAKE:
Make sure your eggs and butter are stored at room temperature.
Make sure your cake is completely cool before you frost it.
Make the frosting a day ahead of time and store in the refrigerator. Then remove from fridge and let it sit out for an hour at room temperature before you frost the cake, this will make it for easy spreading.
To store this cake, it is best to keep it in the fridge.
My favorite kitchen items I used to make this BEST EVER GERMAN CHOCOLATE CAKE.
This post may contain affiliate links. See my Full Disclosure for further details.
Kitchen Aid Mixer: I love my Kitchenaid mixer and use it almost daily. For cookies, breads, sauces, frostings and dough – I find many recipes that I can use my Kitchen Aid to reduce prep time. I have two that I couldn't live without.
OR
Hand Mixer: I love these for small batches or quick and easy recipes that don't require a lot of ingredients. I love that you can have so many color options now, I love personally love teal.
Mixing Bowls: I love having a variety of sizes of mixing bowls. From small to large, I find that having at least 3 bowls of different sizes has been an essential in my kitchen. I prefer Pyrex because of the durability.
Don't forget to pin this GERMAN CHOCOLATE CAKE recipe to your favorite Pinterest board for later.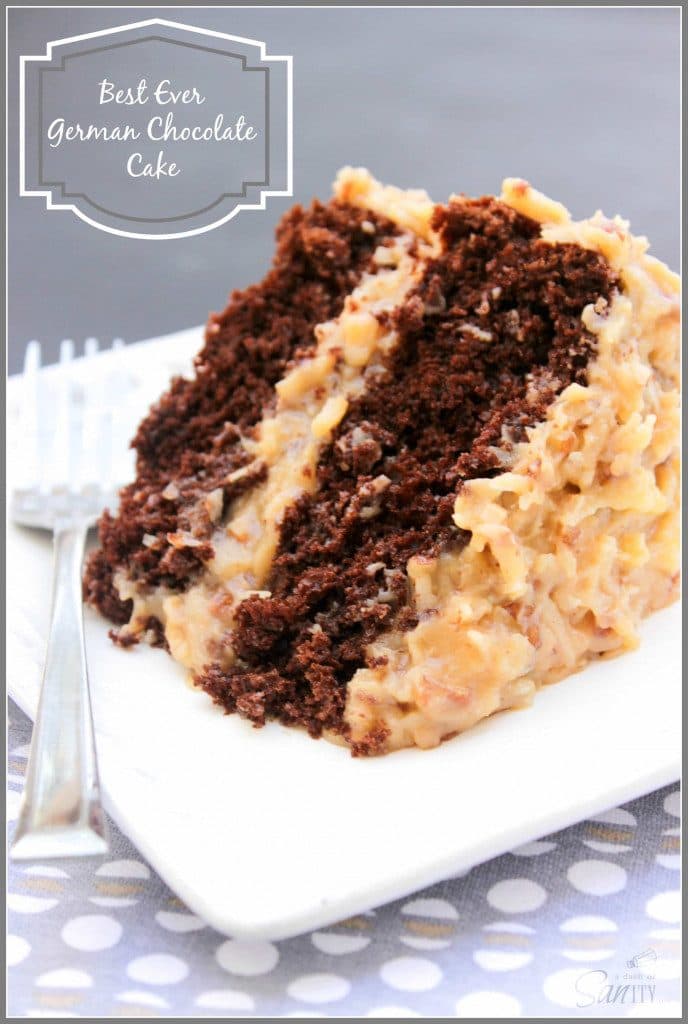 Love anything German Chocolate be sure to check out these A Dash of Sanity Favorites.
German Chocolate Cake Donut Holes – my grandpa would have loved these!
German Chocolate Carrot Cake – a twist that made my hubby fall in love with carrot cake.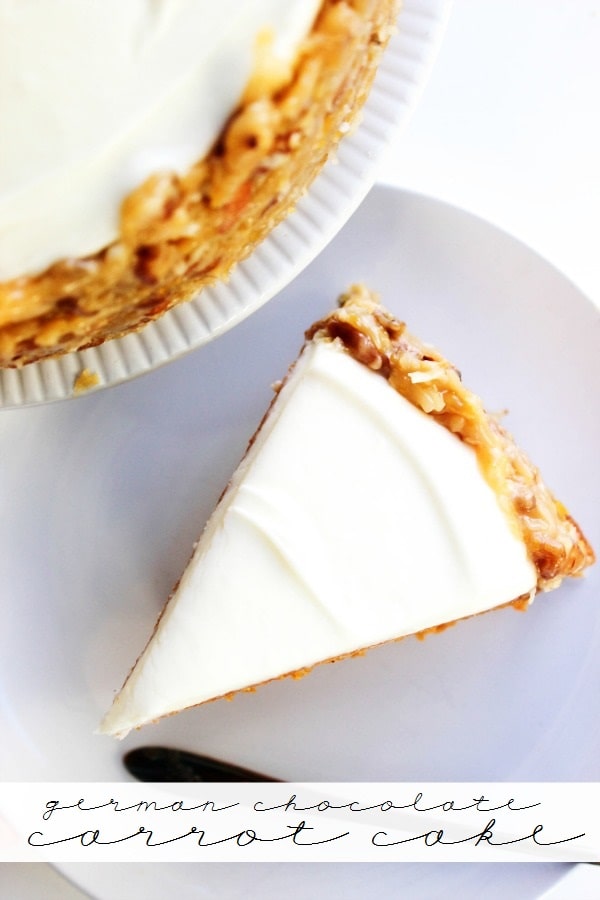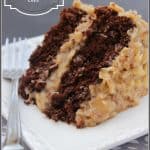 Best Ever German Chocolate Cake
Rich, moist chocolate cake with smooth and creamy caramel like pecan and coconut frosting.
Ingredients
CHOCOLATE CAKE
2

cups

all-purpose flour

2

cups

sugar

¾

cup

cocoa

2

teaspoons

baking powder

1½

teaspoons

baking soda

1

teaspoon

salt

1

cup

milk

½

cup

vegetable oil

2

eggs

2

teaspoons

vanilla extract

1

cup

boiling water
GERMAN CHOCOLATE FROSTING
1

cup

evaporated milk

1

cup

white granulated sugar

3

egg yolk

beaten with 1 teaspoon water

1/2

cup

butter or margarine

1

teaspoon

vanilla extract

1

cup

chopped pecans

1

cup

flaked coconut

1

tablespoon

of cornstarch
Instructions
CHOCOLATE CAKE
Pre-heat oven to 350º F. Grease three 8-inch or two 9-inch round cake pans with cooking spray and lightly dust with flour. I like to do 3 8x8 pans, and just make a 2 layer, cake but set aside the 3rd cake for the kids that don't like the German chocolate frosting or for my sisters who have nut allergies. This is also great in a 9x13.

In mixing bowl (I use my Kitchen Aid), add flour, sugar, cocoa, baking powder, baking soda, and salt. Stir until well combined.

Add milk, vegetable oil, eggs, and vanilla to flour mixture and mix together on medium speed until well mixed. Reduce the speed to low and add boiling water to the cake batter a little bit at a time. Once the water is all mixed in, beat on high for about 1 minute.

Evenly distribute cake batter between the three 8x8 pans (or two 9x9) prepared cake pans.

Bake for 30-35 minutes, or until a toothpick or cake tester inserted in the center comes out clean.

Remove from the oven and allow to cool for about 10 minutes. Remove from the pan and cool completely.

Frost cake with frosting.
GERMAN CHOCOLATE FROSTING
*Note if you are layering the cake, I always double the recipe above and have a little extra frosting for later. If you are doing a 9x13 a single recipe should be sufficient.

In a large saucepan combine evaporated milk and cornstarch and mix; add in sugar, egg yolks, margarine and vanilla. Cook over low-medium heat until it reaches a slow boil. Stirring constantly until thick, about 12 minutes from when it starts to slowly boil. Remove from heat and stir in pecans and coconut, this frosting will thicken up as it cools. Let cool 1 hour then spread on cooled cake. To make this cake easy to slice, layer cake with frosting, then set in the refrigerator for 30 minutes or more, then slice and serve.
Nutrition Facts
Best Ever German Chocolate Cake
Amount Per Serving
Calories 609
Calories from Fat 288
% Daily Value*
Total Fat 32g 49%
Cholesterol 104mg 35%
Sodium 447mg 19%
Potassium 353mg 10%
Total Carbohydrates 76g 25%
Protein 8g 16%
* Percent Daily Values are based on a 2000 calorie diet.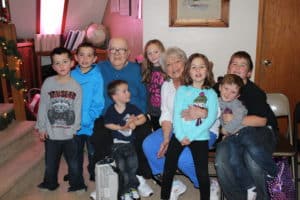 Gpa with some of his great-grandkids Christmas 2014.
Save