It was so fun collaborating with Pillsbury on this post. All opinions expressed are my own.
Berries & Brie Crescent Rolls are a favorite holiday classic rolled up into small, bite-sized appetizers.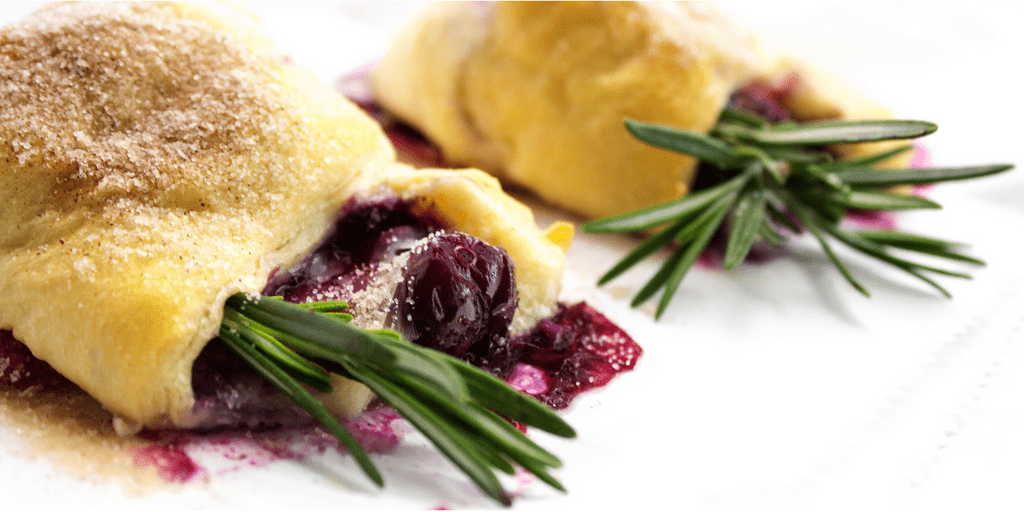 I love finding festive appetizers for holiday parties. From Thanksgiving to Christmas and New Year's, there are always several occasions where we need to bring a sweet or savory treat.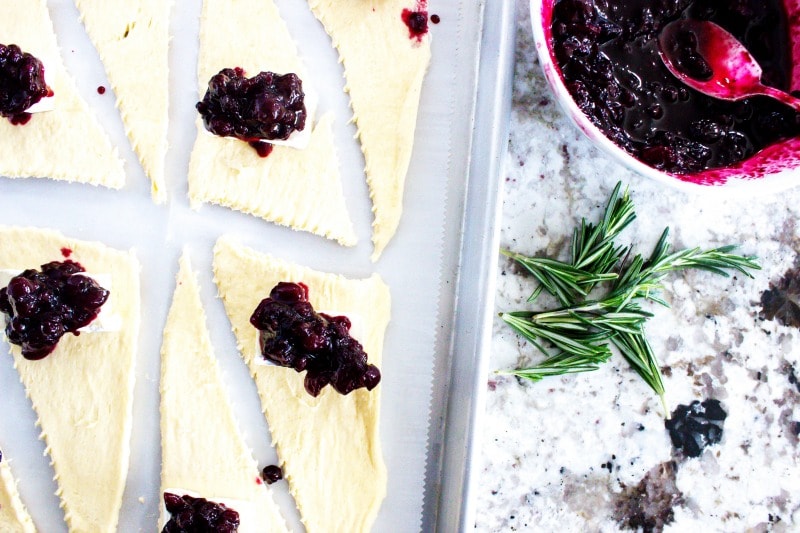 A classic that seems to be at every holiday get together is a brie cracker dip with some sort of berries. This is my sister Nicole's signature dish. And while I love this as a centerpiece, I get kind of bugged by either the lack of cheese or berries I get on my cracker. And then there's those double-dippers (you know who you are).
These Berries & Brie Crescent Rolls solve both of these issues.
I used Pillsbury Crescent Rolls as my vehicle to wrap up the brie and berries together. What I love about this is you can add as much or as little brie as you want. I cut the brie into ¼ inch slices, which I think went perfect with a tablespoon of berries. I also added a sprig of rosemary immediately after cooking as a beautiful garnish.
 The Pillsbury rolls worked perfectly, and I was able to wrap up the brie and berries all in one. I left a small opening on one end so my guests could see what was inside, adding a gorgeous and festive touch.
Whether you are for an easy appetizer or something gorgeous to garnish your table spread these Berries & Brie Crescent Rolls are just what you are looking for. Enjoy!  XOXO San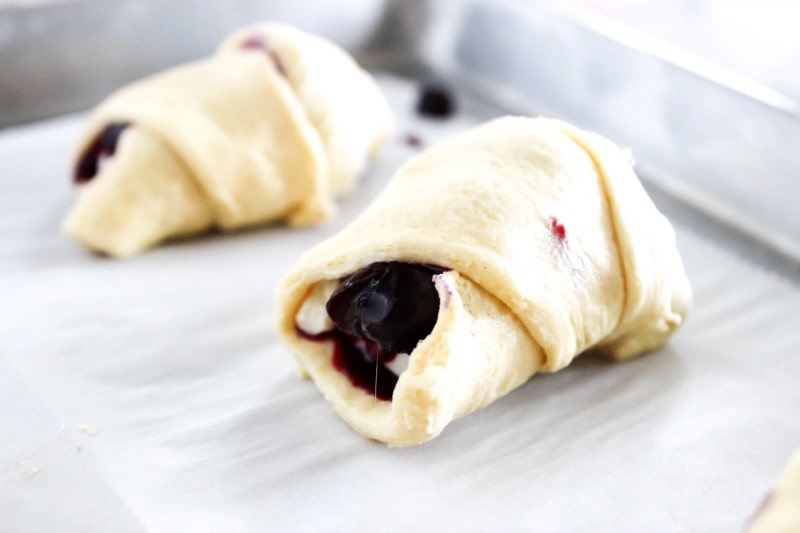 Berries & Brie Crescent Rolls
Ingredients
Berry Compote

1 package cranberries, fresh or frozen (12 ounce package)
12 ounces frozen blueberries
1 cup sugar
1/4 teaspoon salt
Twin Pack of Pillsbury Crescent Rolls, 16 rolls total
16 - ¼ inch slices of Brie cheese
16 tablespoons of Berry Compote
16 small sprigs of fresh rosemary
Directions
Compote
In a large saucepan over medium-high heat, bring cranberries, blueberries, sugar, and 1/2 cups water to a boil.
Heat and simmer until most of the blueberries have popped and grapes are falling apart, 10 to 15 minutes.
Remove from heat; add salt and stir to combine. Let cool to room temperature (compote will thicken as it cools). Refrigerate in an airtight container up to 2 weeks. Serve at room temperature.
Meal while heat oven to 375 degrees.
Open up one package of Pillsbury Crescent Rolls and lay crescent rolls on a parchment paper lined baking sheet.
Add one slice of brie cheese about the center of the crescent roll. You want it totally on the roll nothing hanging off.
Top the brie with berries, about 1 tablespoon.
Wrap up the brie as pictured.
Repeat with remaining dough, brie and berries.
Once all the rolls on are on the pan and rolled up, sprinkle with cinnamon and sugar.
Place in the oven and bake for 14-16 minutes or until a light golden brown. If you cut thick brie, cook the crescent rolls a bit longer.
Remove from pan and slide in a rosemary sprig.
Place the remaining compote in a small serving bowl, for those who want to add more.
Place crescent rolls about the compote on a serving plate.
Serve immediately.
I would advise guest to remove the rosemary before eating as it is really powerful.
Notes
https://www.dashofsanity.com/berries-brie-crescent-rolls/
Pin this to your favorite Pinterest board for later.
Save