Skip the take-out & make this BAKED SWEET & SOUR CHICKEN recipe. A simple recipe that is a healthier twist on one of our favorite take-out dishes.
I much rather bake BAKED SWEET & SOUR CHICKEN in our oven rather than getting take-out. Since the summer time, we have tried to make our lives less hectic and have dinner at home.
Not it may seem that take-out maybe easier right for busy nights? But not in our case. With 5 kids all participating in different sports, my husband and I are literally are running around everywhere.
Over the summer I am not so sure how many times I would like to admit that our family's to-go-to quick meal is Chinese take-out. I felt like it was easy – but in the end I had to run across town and we had to wait like 25 minutes from the time we ordered. There is no way I could do that we are recent schedules.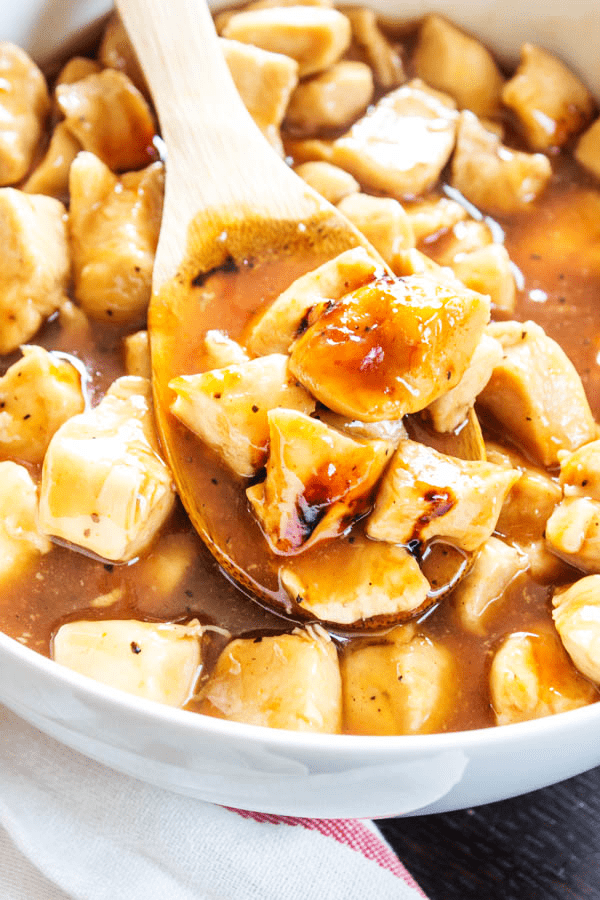 Unless I ordered dinner at like 3PM and picked it up a few hours early. Instead I much rather have something warm waiting at home from the slow cooker or the oven.
In fact the day I made this BAKED SWEET & SOUR CHICKEN I cooked it early and then just covered it in foil. And then once everyone was home, we ate. It was nice to have it there and ready right when we needed it.
I served with a side of rice and next time I will be adding some broccoli to the side of our plate. Another fun suggestion to eating this BAKED SWEET & SOUR CHICKEN is to wrap it in a flour tortilla with some shredded cheddar cheese, this is my favorite way but my kids prefer rice.
It had been quite a while since I had last made this BAKED SWEET & SOUR CHICKEN and so I couldn't remember if the kids love it or not. Madden our picky eater I thought for sure would throw in one or two complaints. But he didn't and he even went up for seconds.
My husband and I like a little more heat in this dish so on our servings we added a little bit (or a lot in my hubby's case) or Sriracha.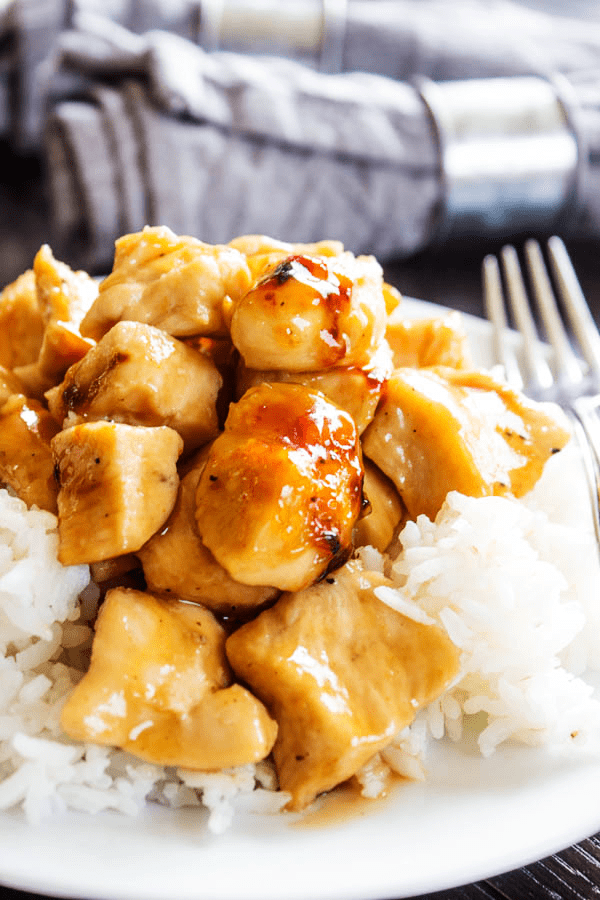 I would like to note that this recipe makes a lot of sauce and we love it that – I will remove the extra sauce into a small mason jar – to have the kids pour on themselves if they want extra sauce, plus since we eat this dish typically after it has been sitting a while, this prevents it from over cooking.
So this school year when you know that your family is going to have some crazy nights, you can make dinner in advance and have it waiting so that you can not only save on the calories but also saving a few bucks along the way too. Prepare this BAKED SWEET & SOUR CHICKEN for dinner this week or next and enjoy it with your family.
XOXO San
My favorite kitchen items I used to make this recipe for BAKED SWEET & SOUR CHICKEN.
9×13 GLASS COOKING PAN: I use glass for this recipe, you could use metal as well, but I just love being able to see the chicken and the sauce. I would recommend glass for this.
COOKING UTENSILS: A nice set of cooking utensils is essential for many of my recipes. For this biscuit dough I just love a simple basic spoon.
CUTTING BOARD: For me this is a kitchen must-have and kitchen counter saver. While we have counter tops you can cut on, I find that this extra step will preserve my counter. I also find that using a cut board makes for less clean up afterwards. I love this cutting board because it has a groove all the way around the board prevent juices from running all of the counter.
Don't forget to pin this recipe for BAKED SWEET & SOUR CHICKEN to your favorite Pinterest board for later.
Baked Sweet and Sour Chicken
Skip the take-out & make this BAKED SWEET & SOUR CHICKEN recipe. A simple recipe that is a healthier twist on one of our favorite take-out dishes.
Ingredients
2 teaspoon garlic salt
1 teaspoon black pepper
1 1/2 cups sugar
1 cup apple cider vinegar
1 cup chicken broth
1/2 cup ketchup
2 tablespoon soy sauce
6 to 8 boneless, skinless chicken breasts, uncooked
4-5 tablespoons cornstarch or flour
Serve with rice and Sriracha or flour tortillas and cheddar cheese.
Directions
Preheat oven to 325 degrees.
Prepare sauce.
In a bowl whisk sugar, vinegar, chicken stock, kethcup, soy sauce, and 4 tablespoons of cornstarch in medium bowl until well combined. Set aside.
You can prepare the chicken in this dish one of two ways.
OPTION 1:
Place chicken breast, uncooked in 9x13 baking dish. Season with salt and pepper, if desired. Pour sauce over chicken and place in the oven. Bake for
Season the chicken with garlic salt & pepper. Let stand for 5-10 minutes.
Preheat oven to 325 degrees.
Bake uncovered at 325 for about 1 1/2 hours turn chicken 1-2 times, or until sauce is thick and dark. Remove from the oven, and place the chicken on a cutting board. Allow the chicken to cool for 5-10 minutes and then cut into cubes. To thicken the sauce, if you so wish, add 1 extra tablespoon to the sauce and whisk in.
Add the chicken back into the sauce and serve immediately.
OPTION 2:
Prepare sauce as directed above.
Preheat oven to 325 degrees.
Cut the raw chicken into 1-inch cubes. Place in 9x13 baking dish and cover with sauce. Place in oven and bake for 60 minutes, stirring chicken every 20 minutes or so.
To get the chicken a nice golden brown, once the chicken has completely cooled through - chicken at 45 minutes and bake until 60 minutes if needed. Turn the oven to high broil and broil the chicken and sauce for 5-10 minutes. Or until the sauce has darkened and some of the top chicken pieces have a nice colored glaze.
Remove from oven and allow to sit for 15 minutes to cool and then serve.
Note: sauce will be bright and light in color, don't worry as you bake the sauce will darken and thicken up. At the end of the baking time the sauce should be as thick as a barbeque sauce.
Notes
https://www.dashofsanity.com/baked-sweet-and-sour-chicken/
This recipe was original posted on A Dash of Sanity in December 2013 and have recently been updated.
Save