This post may contain affiliate links. See my Full Disclosure for further details. This post was originally posted on Real Housemoms where I am a contributor.
BAKED S'MORES DONUTS – just when you think this fireside treat couldn't get any better, it does in this gooey, yummy, chocolate coated treat.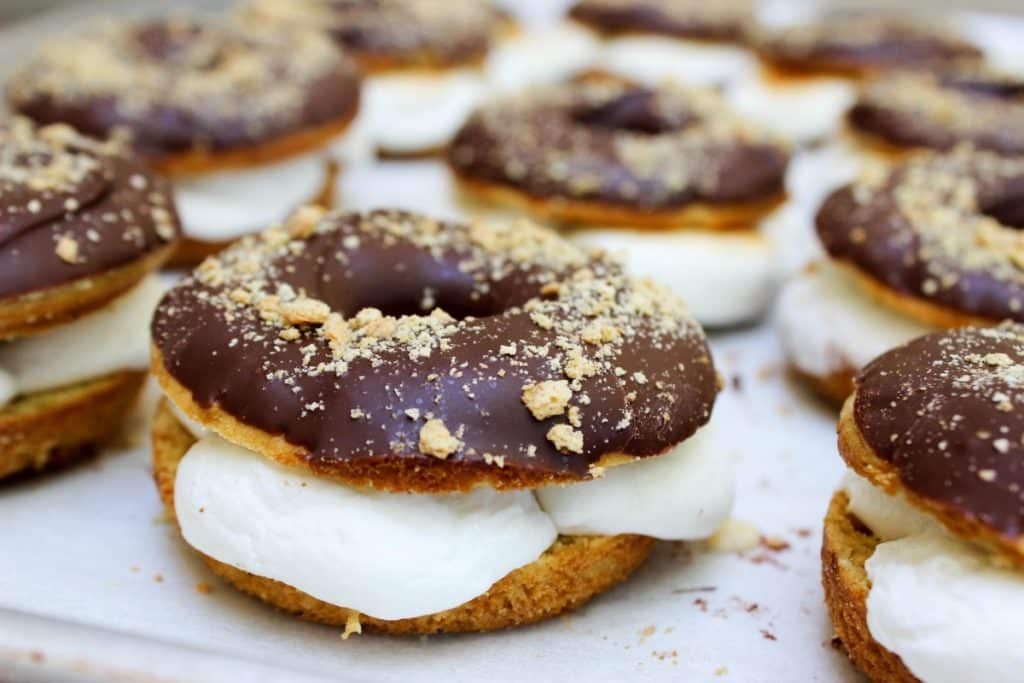 My hubby and I have weekly date nights, we have been doing this since the beginning of our marriage after some wedding advice. These date nights have seriously been a saving grace.
I love the one on one time with him and the chance to eat a dinner alone with no kids, dishes to do and having to think of something to make. Did I mention how much I love these date nights?
We are kind of creatures of habits and typically hit up the same spots every week. So this last month I was over heading to our classic dives and wanted us to mix it up.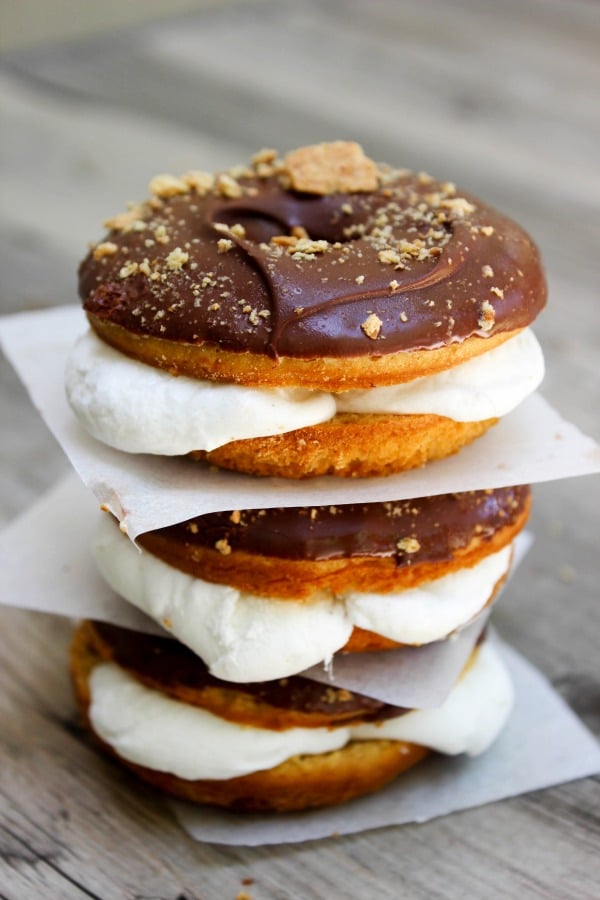 So I made it a personal goal not to duplicate a restaurant for the next of months. So our first date night not at our normal place we headed to the Farm House a new local place right up the street from us.
For dessert they had an amazing menu and it was really hard to decide what time select, my hubby who hates to donuts voted for the S'mores Donuts. I was shocked.
At first bite I had a flashback when made these back in 2015 –  and honestly, mine are better. Simply because mine taste more like a s'more and not an overly grotesque pile of sugar.
These BAKED S'MORES DONUTS are made with a graham cracker donut, a gooey marshmallow center, dipped in chocolate and dusted with graham cracker crumbs. These are better than the traditional s'mores but I also realized you can't whip up fresh donuts fireside. So making these at home is a fun evening treat.
Or you could make the donuts ahead of time and take up them up camping with you – making your fireside treat even better.
Do you love s'mores inspired desserts? Be sure to check out a few more of my favorites including No Bake S'mores Bites, No Bake S'mores Cups, Rolo S'mores Dip, Easy S'mores Dip and Hot S'mores Dip.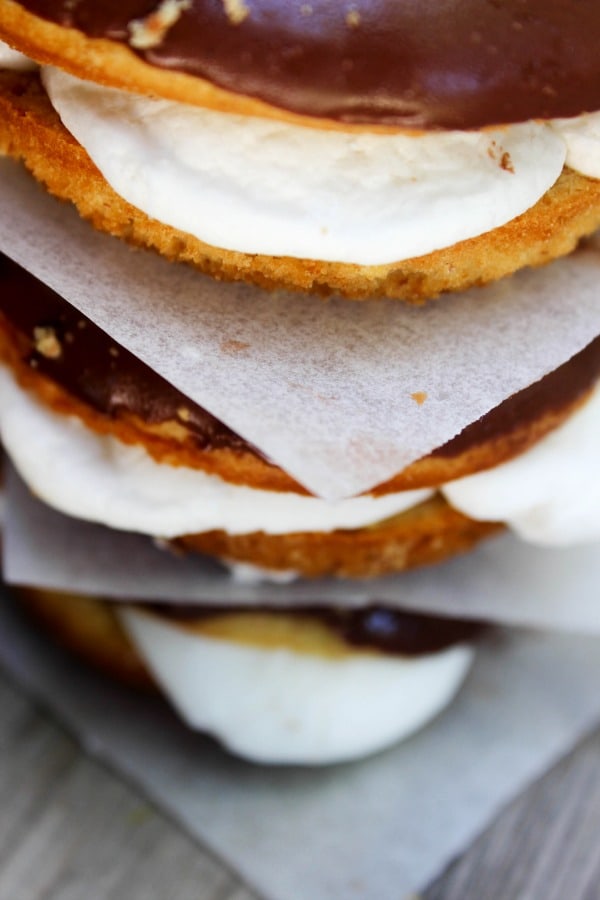 My favorite kitchen items I used to make this recipe for BAKED S'MORES DONUTS.
Donut Pan:
Wow you won't use this everyday it is super fun to make donuts with and worthwhile. We make donuts in these pans a couple of times a month and it is always a nice treat and I love make them versus buying the fried ones from the donut shop (although I love those too).
Mixing Bowls:
 I love having a variety of sizes of mixing bowls. From small to large, I find that having at least 3 bowls of different sizes has been an essential in my kitchen. I prefer Pyrex because of the durability.

Don't forget to pin this recipe for BAKED S'MORES DONUTS to your favorite Pinterest board for later.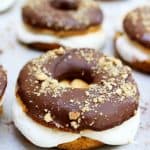 BAKED S'MORES DONUTS
Ingredients
½

cup

milk

1 ½

teaspoons

vinegar

3

tablespoons

unsalted butter

melted

1 ¼

cup

unbleached all-purpose flour

1 ½

tablespoons

instant vanilla pudding

¼

cup

graham cracker crumbs

1/2

teaspoon

baking soda

1/4

teaspoon

salt

2

tablespoons

white granulated sugar

2

tablespoons

brown sugar

2

tablespoons

honey

1

large egg

2

teaspoons

vanilla

GLAZE

1

cup

Ghirardelli Dark Chocolate Melting Chips

2

tablespoons

graham cracker crumbs

24

regular sized marshmallows
Instructions
Prepare donuts.

Preheat oven to 400 degrees. Grease 2 donut pans using cooking spray. Recipe makes 8 donuts.

In a small cup, mix together milk and vinegar, allow this to sit until it starts to curdle about 5 minutes.

Melt butter in a small bowl and set aside to cool.

In a medium mixing bowl add together flours, instant pudding, graham cracker crumbs, white sugar, brown sugar, baking soda, and salt. Set aside.

Whisk the honey into the curdle milk and beat until well combined, then add the egg. Whisk until combined.

Mix together the wet with the dry ingredients until combined, make sure you don't over mix, you want a fluffy donut not a dense one.

If you don't have a piping bag, cut the corner of a Ziplock bag, add batter and pipe the dough evenly into the prepared pans, about 2/3 full.

Bake for 7 minutes, remove from oven and cool for 1 minute before you turn them over on to a cooling rack. Let the donuts cool on rack.

Assemble.

Once donuts have cooled, melt chocolate according to package directions.

Dip the top half of the donut into the chocolate, let excess chocolate drip off, and immediately sprinkle with graham cracker crumbs, set back onto cooling rack. Repeat with remaining donuts and chocolate.

Cut all of the marshmallows in half, I did this using a pair of scissors.

Once the chocolate on the donuts has hardened cut donut in half.

Set the top halves aside or back on the cooling rack.

Set the bottom halves on a baking rack with center side facing up. Place 4 marshmallow halves on top of the bottom halves of the donut. Repeat with remaining donuts and marshmallows.

Set oven on low broil and broil until marshmallows start to toast and turn a golden brown. Once they do immediately remove from oven and quickly place the top halves on top of the marshmallows.

Just like a S'more!

Set on cooling rack and serve and enjoy!
Save