Avocado Lime Vinaigrette a bright, fresh and healthy dressing that can be served with a salad or makes a fantastic dip for chips and vegetables. Made with avocados, garlic, freshly squeezed lime juice and cilantro, this dressing will soon become a new favorite.
And this dressing is apart of a round of the Best 5 Minute Blender Salad Dressings, you do not want to miss this.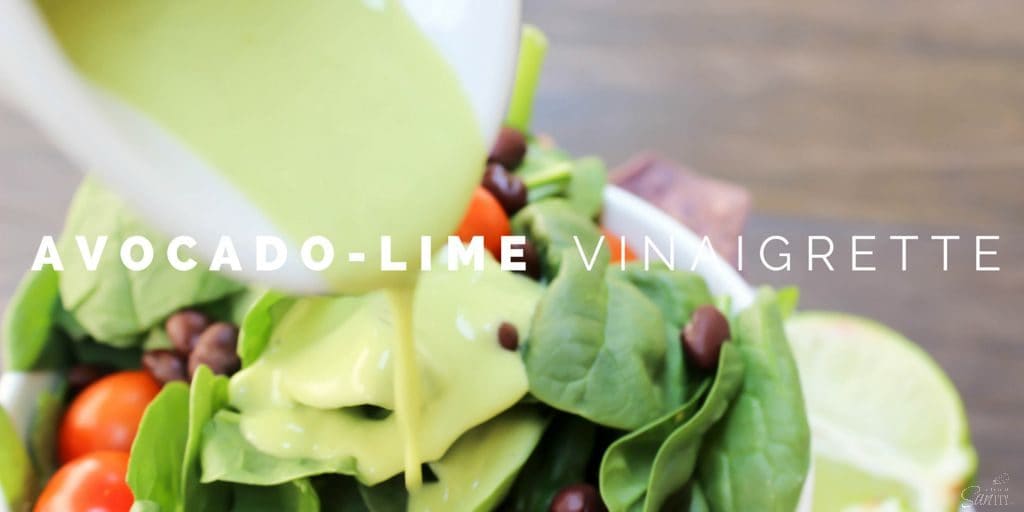 Friends, today am I not only sharing this amazing Creamy Avocado-lime Vinaigrette but together with
some of my dearest friends we are doing a Blendtec Giveaway. Oh, yes you heard that right & I cannot wait for one of my friends who follow along here at A Dash of Sanity to win!
Not only does this Creamy Avocado-lime Vinaigrette make a perfect salad topper, but my son, Aiden and I literally sat at the table and ate this as a dip! Oh, so good. I made my dad lunch too, using this dressing, left over grilled chicken and made a wrap that also included fresh veggies. He loved it. And I will be adding that wrap to this week's menu.
So check out this recipe along with the other 10 amazing salad dressings, then be sure to enter to win your very own Blendtec Blender. I love my Blendtec and I literally find a reason to use it every day.
Good luck friends!
XOXO San
Avocado-Lime Vinaigrette & Blendtec Giveaway
Ingredients
1 ripe avocado, peeled & seed removed
1 teaspoon minced garlic
1/2 teaspoon salt
2 tablespoons freshly squeezed lime juice
2 tablespoons water
1 tablespoon rice wine vinegar
5 tablespoons canola oil
1 tablespoon garlic oil, optional if you don't use it add another tablespoon canola oil
1/4 cup fresh cilantro leaves
Directions
Place avocado in your Blendtec or any type of food processor. Add garlic, salt, lime juice, water, vinegar, canola oil, garlic oil, if using and cilantro leaves. Turn on your Blendtec on the dressing/dip setting, run until cycle is complete. If using a food processor or blender, blend until creamy & smooth, 30-40 seconds. Transfer vinaigrette to serving or squeeze bottle. You may use immediately or refrigerate for up to 2 days.
Notes
https://www.dashofsanity.com/avocado-lime-vinaigrette-blendtec-giveaway/
Check out the rest of the Best 5 Minute Blender Dressings, then the giveaway at the bottom of the post.
BEST 5 MINUTE BLENDER SALAD DRESSING RECIPES










BLENDTEC GIVEAWAY
Don't forget to pin these recipes for later.


Save