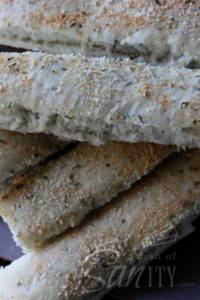 Artisan Breadsticks
I am a carbivore….and all my kids are too! We love trying out new recipes for breadsticks, garlic knots and so on. This is one of our favorites. Enjoy!
Ingredients
Dough
1 1/2 cups lukewarm water
2 tablespoons olive oil
1 teaspoon sugar
2 teaspoons salt
2 tablespoons of Italian dried herbs
2 1/4 teaspoons instant yeast
4 1/4 cups Unbleached Bread or All-Puprose Flour
Topping
Egg wash (1 large egg beaten with 1 tablespoon water)
1/4 cup artisan bread topping – I make my own: ¼ cup of grated parmesan, 1/2 teaspoon garlic powder, dash of salt and a dash of Italian herbs (you can add more garlic, my kids and hubby love more garlic – it's in the genes just ask my Dad!)
Directions
1) Lightly grease a half-sheet pan (13″ x 18″) or other large, rimmed baking sheet. Drizzle with 1 tablespoon olive oil; set it aside.
2) Mix and knead the dough ingredients — by hand, mixer, or bread machine set on the dough cycle — to form a slightly soft dough. Cover and let rise for 1 hour, until puffy.
3) Spread the dough into the pan, stretching it to the edges. If it shrinks back, let it rest for 10 minutes, and stretch again, repeating if necessary.
4) Use a lightly greased bench knife or pizza wheel to cut the dough into 12 or 13 crosswise strips, 1″ wide. Then cut the dough in half lengthwise — you'll have 24 to 26 strips, each about 6 1/2″ long. Leave them right as they are, in the pan.
5) Cover and let the strips rise at room temperature for 45 to 60 minutes, until puffy. Towards the end of the rising time, preheat the oven to 350°F.
6) Brush the strips with the egg wash, and sprinkle on the topping.
7) Bake the breadsticks for 30 to 35 minutes, until they're light gold. Remove the pan from the oven.
8) Once the breadsticks are cool enough to handle, cut along their score lines..
Recipe adapted from: http://www.foodndrinkrecipes.com/artisan-breadsticks%E2%80%A8/
My review: I already admitted to being a carbivore ….need I say more? I do love the egg wash topping on this recipe and I think that is what sets it apart.
Kid's reviews: They can't get enough. The night I made these at bed time prayer my daughter Jordan said, "I pray that my Mom will make more of the delicious bread sticks tomorrow. Amen." Yes, they like them just a little.
Save