Angel Food Cake is a summer must have in our home. Light and fluffy, with the perfect amount of sweetness, this recipe for homemade angel food cake is so easy to make from scratch.
Serve with fresh fruit and whipped cream, this fat-free cake uses a few simple ingredients and tastes so much better made from scratch.
A few years ago I made this recipe for Angel Food cake and it has become one of our family's favorite desserts, especially in the summertime. Whether we serve this with the traditional cut up strawberries or sliced peaches or raspberries, we make some fresh whip cream with a hint of almond and all of us our literally drooling when it comes out of the oven.
My husband claims to hate sweets yet, he would devour this entire cake if I let him. Everytime we make this everyone requests seconds, but thankfully there are only enough pieces for us each to have one, then a couple for leftovers the next day which we split in half to make it fair.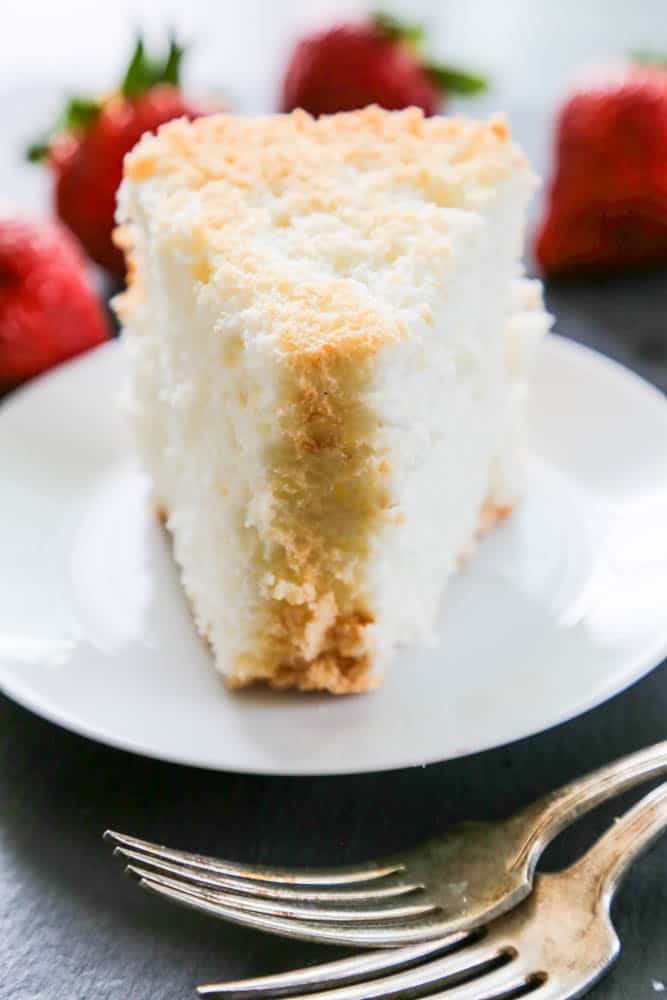 My favorite part of this homemade angel food cake is the crust. Moist but with a slight crunch from the sugar I could eat it all right off the top before serving. My husband feels the same way. Sadly it would be too obvious if we did this, but we have no shame if we aren't have guests over.
I love that this is always a recipe that pleases guests and not only that but wows them as well.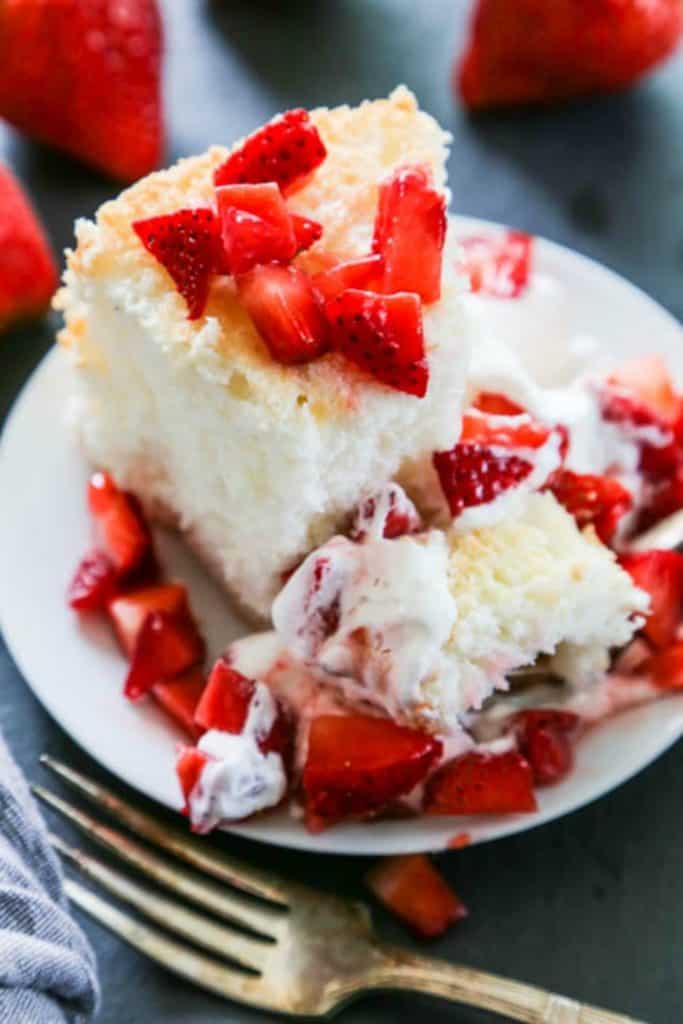 My favorite kitchen items I used to make this recipe for Angel Food Cake.
This post may contain affiliate links. See my Full Disclosure for further details. 
TUBE PAN: A must have for this recipe. I have always got my pan at Goodwill or a garage sale but if you don't want to wait Amazon is the best place to "pick" it up from.
KITCHENAID MIXER: I love my Kitchenaid mixer and use it almost daily. For cookies, breads, sauces, frostings and dough – I find many recipes that I can use my KitchenAid to reduce prep time. I have two that I couldn't live without. I use this for my coffee cake because it takes 7 minutes to mix – and I can do other things, while my KitchenAid works it magic.
HAND MIXER: I love these for small batches or quick and easy recipes that don't require a lot of ingredients. I love that you can have so many color options now, I love personally love teal.
MIXING BOWLS:
 I love having a variety of sizes of mixing bowls. From small to large, I find that having at least 3 bowls of different sizes has been an essential in my kitchen. I prefer Pyrex because of the durability.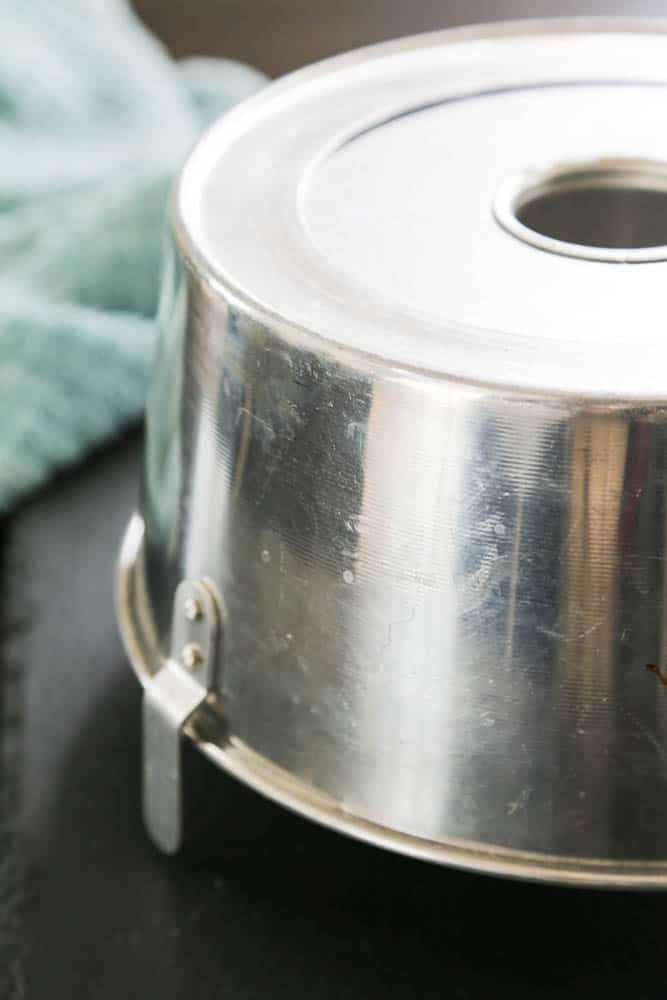 Don't forget to pin this for later to your favorite Pinterest board.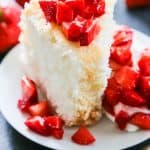 Angel Food Cake
Angel Food Cake is a favorite in our home. Light & fluffy with the perfect amount of sweetness, this recipe for homemade angel food cake is so easy to make.
Ingredients
1 1/2

cups

egg whites

about 11-12 large eggs

1

teaspoon

cream of tartar

1/4

teaspoon

salt

1 1/4

cups

cake flour

1 3/4

cups

sugar

1 1/2

teaspoons

almond extract

or 1 teaspoon vanilla extract + 1/2 teaspoon almond extract
Instructions
Using an electric hand or stand mixer beat egg whites until stiff peaks form.

Add in cream of tartar and almond extract (vanilla too if using this as well). Beat in until incorporated.

In a large mixing bowl add flour, sugar and salt. Sift together 5-6 times.

Gently fold in the flour mixture into egg mixture, fold until combined and no flour mixture can be seen.

Pour cake batter into 10-inch tube pan. (DO NOT GREASE PAN!)

Place pan in the oven. Turn on oven to 325 degrees. Cook for an hour or until cake is a nice golden brown.

Invert cake pan like shown above and allow it to completely cool. When cooled remove from the pan.

Tip: take a butter knife and gently go around the edges of the pan to help release the cake. This allows for a clean removal.
Nutrition Facts
Angel Food Cake
Amount Per Serving
Calories 177
% Daily Value*
Sodium 99mg 4%
Potassium 103mg 3%
Total Carbohydrates 39g 13%
Protein 4g 8%
* Percent Daily Values are based on a 2000 calorie diet.
Save