I have been compensated for this post from Blendtec, but all thoughts and opinions expressed are solely mine.
This Almond Joy Smoothie tastes just like the candy bar it's inspired by, and it's made with just 4 simple ingredients.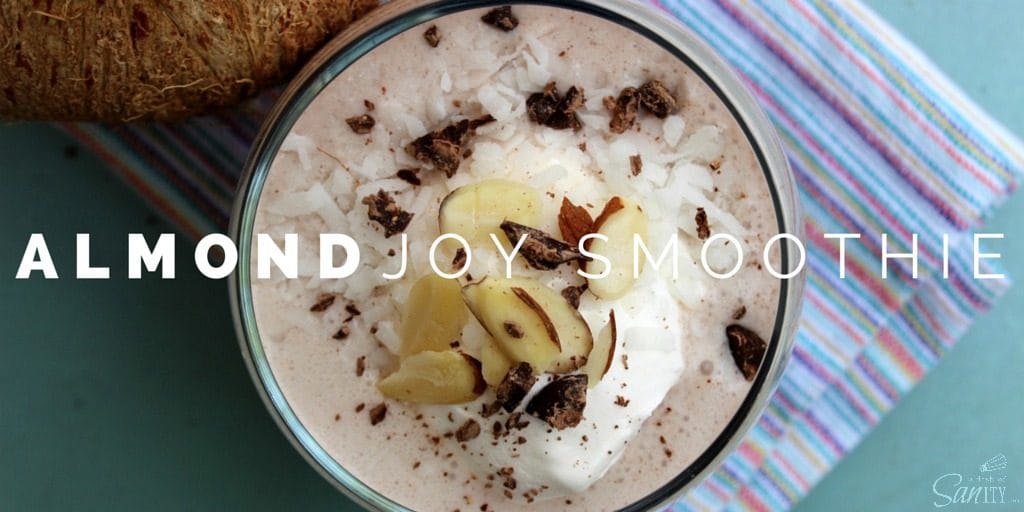 Friends, not only is this drink amazingly delicious, it's healthier than the candy bar too. If you love coconut and chocolate, I can't wait for you to try it.
And for those of you wishing for a blender to make smoothies and shakes like this one, I have some exciting news. A few of my friends are getting together and sharing some of our favorite smoothie recipes, and the best part is Blendtec is giving away one 725 Designer Blendtec Blender to one of our lucky followers. Giveaway details just right below the recipe. Be sure to enter!
If you haven't had the chance to try out one of these babies, it needs to be at the top of your list. Since getting our Blendtec, it has revolutionized our morning breakfast routines, and even improved snack time. I've also never seen my husband eat as many vegetables as I have now that he's discovered whole juicing. Even my 11-year-old, Aiden, has found his favorite: Chocolate Almond Spread – simply to die. for.
And while I can't wait to share more of these amazing recipes with you, I decided to rock out this Almond Joy Smoothie first, because, it's become one of my favorites. While I was never a big Almond Joy fan, I still always loved chocolate, coconut, and almond. But this classic candy bar in a smoothie is, hands down, my favorite way to eat chocolate right now.
So if you're looking for a new idea for breakfast, an afternoon snack, or even a healthier dessert, try this Almond Joy Smoothie. You'll love this easy, 4-ingredient drink that will leave all chocolate fans wanting more.
Enjoy!
XOXO San
Ingredients
½ cup Almond milk
1 – 5.3 ounces of coconut Greek yogurt
1 tablespoon dark chocolate chips
1 tablespoon unsweetened coconut

Toppings, optional

Dollop whip cream
1 tablespoon sliced almonds
Chocolate chips
Unsweetened coconut
Directions
Freeze the Greek yogurt. I do this by spooning it into an ice cube tray, stick in the freezer for about an hour or until it is completely frozen.
Add all of the ingredients in order into a blender - I used my Blendtec for this.
I set it on the smoothie setting; it lasted 40 seconds, and my drink was ready. If you don't have a Blendtec, keep blending until it reaches your desired consistency.
If you want a thicker smoothie, add 2 ice-cubes made from almond milk. This makes it more like a shake, whereas it will be pretty thin if you follow the original recipe - just the way I like it.
https://www.dashofsanity.com/almond-joy-smoothie-recipe/
Now for the giveaway!
And here are some other fantastic recipes to check out while you are at it. All Blendtec worthy!
Save