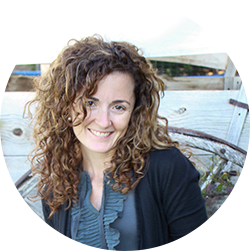 In reality, I've purposefully visited the grocery store on my Friday night date night, accidentally triple booked a Sunday brunch, melted my purse on my smooth top stove, unknowingly worn black sweats garnished with multiple floured hand prints all day, curdled fettuccini alfredo so bad you'd think it was cottage cheese, taken my 3-year-old to her first day of preschool a week early  had my children spontaneously judge my meals from a zero to five on their kid-created food rating scale. I'm no stranger to insanity.
However, through all this craziness – fitness, friends, family, and food keep me sane. As a mother of five, daycare provider, and head chef/owner of Delectable Moments, a catering business I started four years ago, I've discovered ways to make life easier while maintaining great taste. And on occasion, I find solace in the adventure of a challenging recipe or the elevation of an experience with heartfelt touches and a bit of panache.
I cooked my first meal eight years ago after spending several years in the fast-paced tech industry. During that time, I was able to dine at many fine restaurants across the country from LA to New York, leading to the knowledge that good food is worth the extra time and money. But you can't take kids to those places, and my fate led to marrying a middle school teacher. As a result, I wanted to blend my two known worlds into one – where food, pleasure, and a conservative budget could collide on a plate and still create lasting memories.
Whether it's feeding a crowd of 80, whipping up an average weekday family dinner, or delivering a meal to someone in need, I want people to feel my love through my food. So whether you're looking for a sweet dessert, crockpot recipe, or something more refined, I hope a dash of Sanity provides you with just that… an idea, a laugh, encouragement, or just a break from the everyday madness.
♥ Sandra