30 Minute Thai Chicken Soup has all the traditional flavors of a classic Thai soup: coconut, curry, cilantro and fresh lime. What sets this soup apart is the amount of time it takes to make it.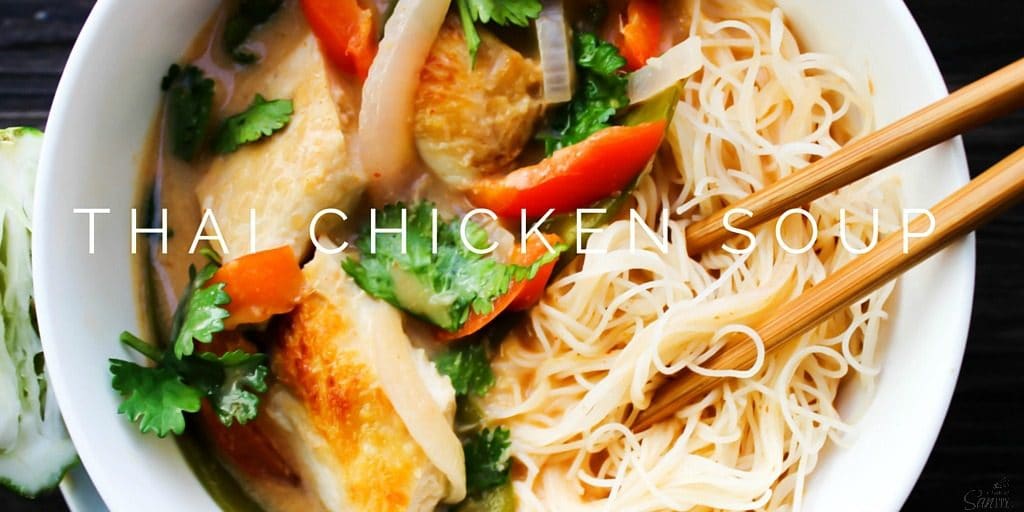 I love Thai food, especially soup and noodle bowls. We have one Thai place here in Fort Collins that I just love, Baan Thai. And when we go there I get the same thing every single time, Panang Curry. I literally will never stray. And this soup reminds me of that dish. So when I made it, I called my husband who was still at work and in so many words told him how amazing this soup was. I wish I could say exactly the conversation, but let's just say it wasn't G-rated. I love this recipe and it will become a weekly thing for me. Now my kids on the other hand, choose my tomato soup, because well the snow peas might make them ill (wink). So I was lucky enough to have left overs.
Besides the coconut and red curry what makes this dish amazing, is how easily and quickly I can throw it together. You can even play around with the vegetables, if you want, add in your favorites. I love to mix things up like that, just depending on what I have around the house. The only thing that I would play with is the amount of chicken. I love broth, so in the future I may add less chicken, maybe just a pound but that is because I am a broth lover.
So on a night where you need an easy dinner, but want take-out try this 30 Minute Thai Curry Soup. Satisfaction is guaranteed.
Enjoy friends!
XOXO San
30 Minute Thai Chicken Soup
Ingredients
1 ½ pounds chicken tenders
3 tablespoons oil
2 ½ tablespoons red curry paste
2 - 12 ounce cans lite coconut milk
2 cups chicken stock
¼ cup fish sauce
2 ½ tablespoons peanut butter
1 red bell pepper, seeded and sliced into ¼ inch slices
1 purple onion, thinly sliced
1 heaping tablespoon fresh ginger, minced
6 ounces fresh snow peas
1 tablespoon lime juice
4 ounces rice noodles, optional
Cilantro for garnish
Directions
Prepare chicken by adding 1 tablespoon of the oil over med-high heat. Add chicken tenders to the pan and cook for 2-3 minutes on one side. Turn the tenders over and cook on the other side, for another 2-3 minutes. Repeat until chicken tenders are cooked all the way through and a nice golden brown on the outside, about 6-8 minutes. Remove chicken from skillet.
NOTE If your skillet is small trying cooking ½ of the chicken tenders at a time, this will add an additional 8 minutes to your total cooking time.
Once all the chicken is cooked and removed from the pot, add 1 tablespoon of oil and cook onion for 2 minutes, then add in red pepper. Cook for a few minutes until they are tender, add in curry paste and ginger, chicken broth and coconut milk. Stir together. Then stir in peanut butter. Reduce heat to medium low and add in snow peas. Cover and cook over med-low heat for 10 minutes.
Prepare rice noodles according to package directions, if you are going to add them.
After 10 minutes, remove lid and reduce heat to low. Add in chicken. Cook for another 5 minutes.
Stir in lime juice, noodles if you are adding and garnish with cilantro. Serve immediately.
Notes
https://www.dashofsanity.com/30-minute-thai-chicken-soup/
Don't forget to pin this to your favorite Pinterest board for later.
Save