15-Minute Toffee Fudge – a creamy & deliciously simple toffee fudge recipe that will become a chocolate-lovers favorite.
 
The holiday season is all about the food, well at least it is for me. Mainly this is because food is my love language. So if I want to do something nice for someone, I always make something delicious.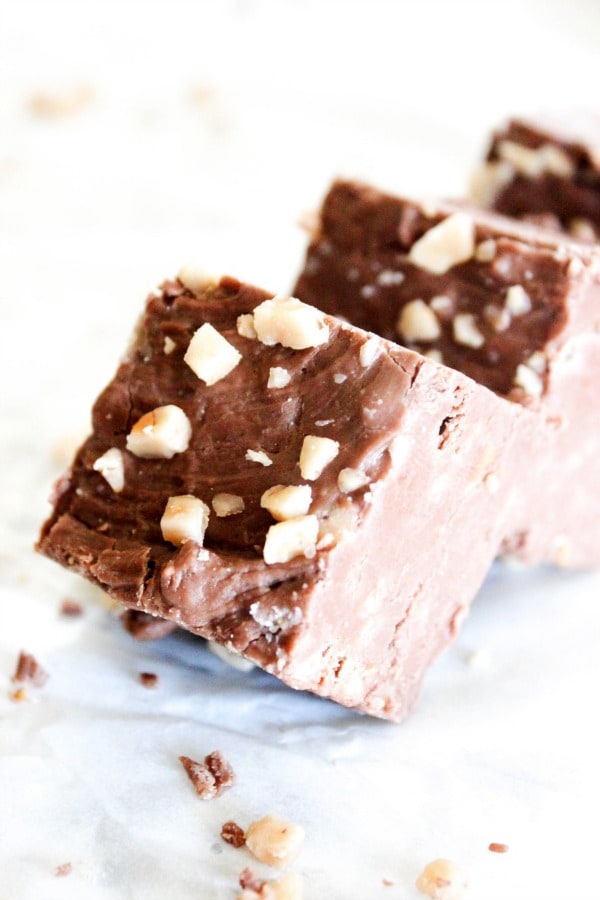 And what better foodie treat for the holiday than fudge. Fudge is everywhere this time of year and it always starts at Thanksgiving. Half of the dessert table is pie. The other half, fudge. I don't mind it one bit. But you know what, there needs to be a variety. Granted just plain ole chocolate is great, I just love to mix it up a bit.
I wasn't much of a fudge "maker" until last year. Honestly it was mostly intimidation. My grandma made the best fudge and listening to her talk about it, well it seemed complicated. And then to top it off so many of my friends would talk about – how hard fudge was to make. Finally last year I got the gumption and whipped up my first ever batch. And then of course I became addicted.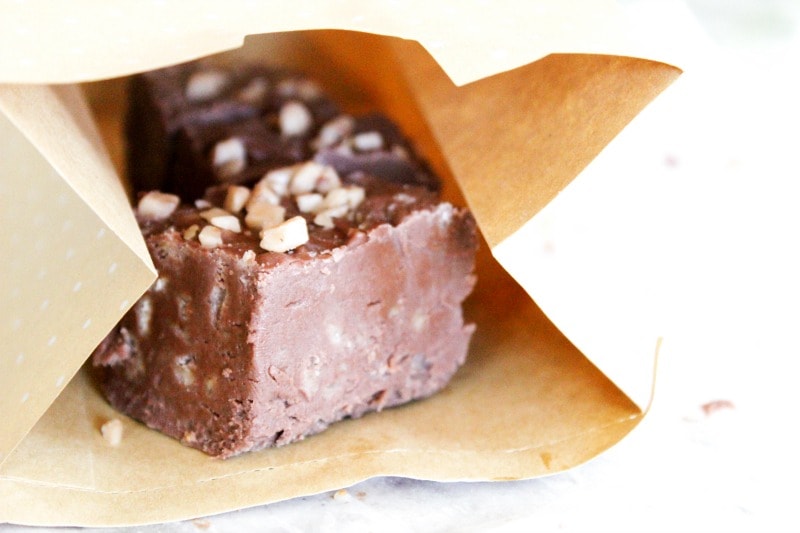 Here are a few of my favorite fudge recipes currently on the blog: White Chocolate Peanut Butter Fudge, Chocolate Covered Cherry Fudge and of course, Dulce De Leche Fudge…all delicious and easy!
Toffee Fudge came naturally to me because Health Bar is one of my favorite. And toffee combined with fudge, well that is true holiday joy there. Enjoy this easy 15-Minute Toffee Fudge, I know your friends and family will. XOXO San

Ingredients
3 cups sugar
¾ cup butter
⅔ cup half & half
12-ounce bag semi-sweet chocolate chips
7-ounce jar marshmallow creme
2 teaspoons vanilla
1 cup toffee chunks or pieces + 2 tablespoons for topping
Directions
Prepare an 8 or 9 inch square pan by lining it with two layers or foil and then gently spraying the foil with cooking spray or parchment paper, my favorite. You can just lightly grease the pan with cooking spray, but trust me the foil or parchment paper trick is so nice when lifting it from the pan.
TIP you may want to set the large bowl on a plate in case it boils over while heating. This happens every time and the plate makes less of a mess for me to pick up.
In a large microwave safe bowl add butter and heat for 1 ½ minutes or until butter is completely melted.
Next, add sugar and half & half; stir until combined. Place in microwave and heat for 3 minutes. Then vigorously stir to combine, then cook another 2 minutes. Stir well while scraping down sides of bowl.
Return to microwave and cook for another 3 minutes. Stir once more and then heat another 2 ½ minutes.
Stir in marshmallow cream until mostly smooth. Then add in chocolate chips and vanilla. Stir until smooth and well combined, no chunks. Stir toffee chunks. Immediately pour in prepared pan and smooth the top. Sprinkle with remaining 2 tablespoons of toffee.
Tap the pan on the counter to work out the air bubbles. Cool completely until set. Use parchment paper to lift fudge from pan before cutting into squares. I let mine set for 2-3 hours.
Store in an airtight container and set in fridge until ready to eat, serve or package up for friends and family.
https://www.dashofsanity.com/15-minute-toffee-fudge/
Pin this to your favorite Pinterest board for later.
Save